"You can say that it's great that Saddam is gone and I'm sure that a lot of Iraqis feel it is great that Saddam is gone," Dean said yesterday in answer to a question in Manchester. "But a lot of them gave their lives. And their living standard is a whole lot worse now than it was before."
— 
Howard Dean
, off his meds and on the street
After last week's Dire Menace From Another Time (with a side order of foreshadowing), it's time to kick back, relax, and develop some characters! This story was the second half of book 2, and it feels pretty wrapped-up to me, which means they're really pushing to get through the source material. At least it worked pretty well this time, the relationship between Our Heroes is solidifying, and Tirana got some entertaining culture shocks. Still no sign of the cute elf photojournalist from the OP, who isn't in any of the light-novel illustrations, so I don't know when or where she shows up.
Unrelated, I'd like to state for the record that I have never had any information about alleged financial, sexual, or criminal acts undertaken by or on behalf of anyone related to, employed by, or associated with Bill and/or Hillary Clinton. Never never. Absolutely sure of it.
To augment the relatively small amount of Open Source software included with MacOS (soon to be even smaller), I used to use Fink. Then I used to use DarwinPorts (now MacPorts). And just now, I started wondering if it's time to give up on Homebrew.
Why? Because the maintainers very very quietly decided to gut the functionality of the tools by removing all of the compile-time options for every package, restricting them to a single flavor. The dozens of bugs filed since then just get closed with rude noises, and maybe a handful of the requests for lost functionality get added back as part of the one-and-only build flavor (but only if they're submitted in precisely the correct format and don't conflict with other undocumented policies). The best part is that if you had installed something with options selected, it silently broke the next time it was updated.
Their recommended solution: "create your own tap", which is like telling someone who came in for an oil change to build their own fucking garage if they don't want 5W30.
In which Our Heroes get their Just Rewards, and A Great Darkness Covers The… no, wait, it's just rubber ducks. Evil, evil rubber ducks. A little R&R before the Haruhime story kicks off.
(And, no, she doesnt seem to be in the game yet; since this week's new characters were Daphne and Cassandra, I presume she'll show up next week. If they implement something even vaguely close to her power, she'll be very popular for PvP)
Please Don't Tell My Parents I Found A New Publisher…
---
When Curiosity Quills imploded, Richard Roberts' books ended up in limbo. After reclaiming the rights, he went searching for a new publisher instead of putting them up on Amazon himself, and the first Pennyverse book is back online. He thinks the second one should be up any time now. Decent Kindle price, painful paperback price.
3D Cheesecake: Invisible Handcuffs Edition
---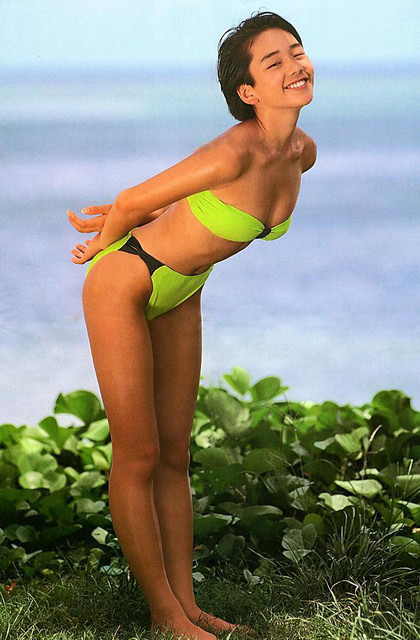 With apologies to Genesis…
🎶 🎶 🎶 🎶
Well I've been surfing, surfing porn so long,
But thinking bondage, bondage was just wrong.
Well now I know,
It increases visibility
Of prime femininity,
And redefines the term "restraining order".

She seems to be in invisible cuffs, damn!
I could reach out and grab right hold of her parts.
When I see girls in invisible cuffs, damn!
I lose control, my heart rate goes off the charts.

Well I don't even know her, or how to spell her name,
Just that she shows all that skin, without a hint of shame.
And now I know,
She's got something that keeps her trussed,
And it shows off the goods to us,
And in my dreams, I'm touching her all over.

(chorus)

synth break

(chorus)

Well I just keep losing, because I have no game,
And yes I have messed up my life, and women call me lame.
And now I know,
Restraints produce great pornography,
Expose lingerie to me,
And fill my screen with babes to slobber over.

(chorus)
🎶 🎶 🎶 🎶
In related news, giga-Kojimblr has been released from Tumblr jail. It got flagged a few days back, which forces you to log in before viewing "sensitive" content. Since I have no intention of creating a Tumblr account, I had to cross my fingers and hope it'd eventually be released. Honestly, I'm surprised it hasn't been permabanned by now; that'd be, what, the fifth time?
[Sunday update: …and, back into Tumblr jail it goes, sigh.]
[Sunday afternoon update: to my immense surprise, it seems I do have a Tumblr account; they just sent me email saying it's been a long time since I used my account, and do I still want to keep the username? Apparently I created it a few years ago to add a comment to someone's "where is this place in Kyoto" request. Don't bother looking for my empty blog there; it's marked private, and I wouldn't use it anyway, given how hostile they are to their users.]
[updated with almost all their names]
I use Amazon's RedHat-based Linux distribution to run this site in their cloud, with Nginx as the main web server, and Lighttpd for CGI-ish things that are reverse-proxied by Nginx.
Amazon's been pretty good at maintaining the RPMs, to the point that I don't worry much about running "yum update" and rebooting at frequent intervals, although I do update my test instance before the real one.
So it was not pleasant to go through a typical update, surf to my site, and find the Lighttpd default page instead of my blog. Whoever packaged up the latest release had it overwrite /etc/rc.d/init.d/lighttpd, blowing away my configuration and replacing it with the default one. And it started up before Nginx, so it claimed the ports.
(and before you ask, I would have put my customizations in /etc/sysconfig/lighttpd if the script had been written in a way that allowed those particular changes; the workaround is going to be to copy it to a new name and disable the original)
Fortunately I keep all configs under source control, so I simply reverted that file and restarted everything, but it's still annoying.
Unrelated, tomorrow there'll be a double feature: terrible parody song lyrics with matching cheesecake!
Forgotten SF Novels: Mayflies
---
Kevin O'Donnell, Jr was a prolific SF writer in the Seventies and Eighties, mostly in short-story form, but he also left behind 10 full-length novels, perhaps the best-remembered being the four-volume Journeys of McGill Feighan, which were successful enough that Berkley reprinted his earlier novel Mayflies with an "interesting" new cover: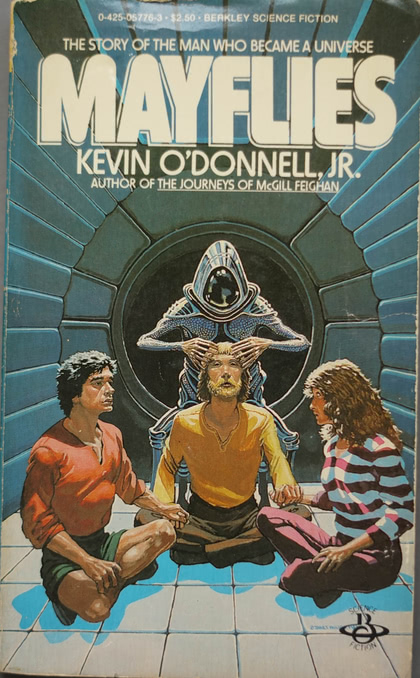 Our Hero was a scientist working on a last-ditch life-support system to keep even the most critically injured alive until they could be treated. In a fit of irony, he ends up being the first test subject when he's decapitated by a rogue light fixture during a severe earthquake.
Unfortunately for Our Hero, he doesn't recover, and his living-but-idle brain eventually gets donated to a group working on biological computers, as in "reprogramming a human brain into a supercomputer". They do such a good job of it that the brain-puter is put in charge of a slower-than-light starship sent to found a colony out among the stars, just in case humanity blows itself up at home.
Unfortunately for the passengers, his mind wasn't completely wiped, and when he wakes up, the conflict between programming and ego results in a tug-of-war that disables the ramscoop before they get up to full speed. The ship will eventually reach its destination, but it's going to take a long, long time. As their societies rise and fall, Our Hero struggles against his programmed self for control over the ship, while living vicariously through generations of short-lived passenger "mayflies".
As I mentioned over on Good Show Sir, the cover art that looks like a stoner party being crashed by a mind-melding alien is actually a sex scene in the book, in which the girl is expertly fingered to orgasm by one of the aliens. Actually, everyone aboard is being probed in some fashion, in an attempt to elicit violent or self-destructive reactions, but our PoV character at that moment apparently drew the short straw.
Note: none of his books are in print or available electronically, which is a shame, since they were all entertaining; I presume there are rights issues which his estate is either unwilling or unable to untangle.
More fun with duplicate cheesecake
---
Before I deleted the 2,000+ duplicate images I found with PDQ, I did a lot of sampling to make sure there were no false positives. The default distance within which clusterize256 considers two images to be the same is 31, which looks like the sort of number you'd come up with after testing your code against a large set of known data.
Now that I have ~16,000 de-duped images, I decided to see what would happen if I bumped that up.
First I tried 50, which found a number of real dupes where the differences consisted of minor changes in cropping, focus, and exposure (at the level of Photoshop's auto-level function), as well as significant text additions. It also had a fair number of false positives, however, mostly photos of the same model with slightly different expressions or head positions (eyes open/closed, smile/not, face turned a few degrees, etc); if they should be considered dupes at all, the resolution process has to be manual (we used to call it "editing your damn photoshoot"…).
Then I tried 40, which reduced but didn't eliminate the false face positives. 35 left me with only one false match (below), but also didn't pick up some of the real near-duplicates.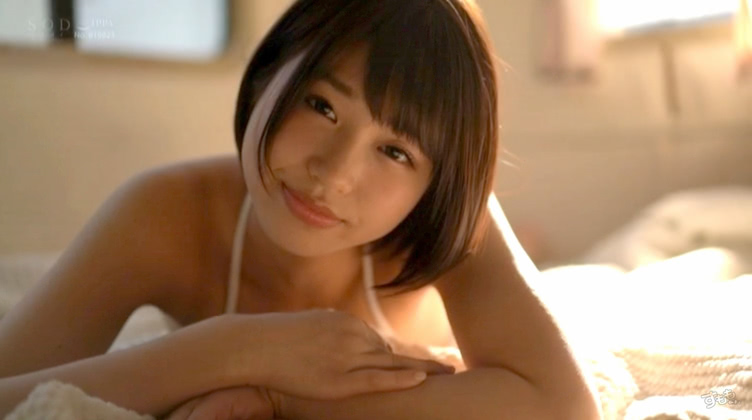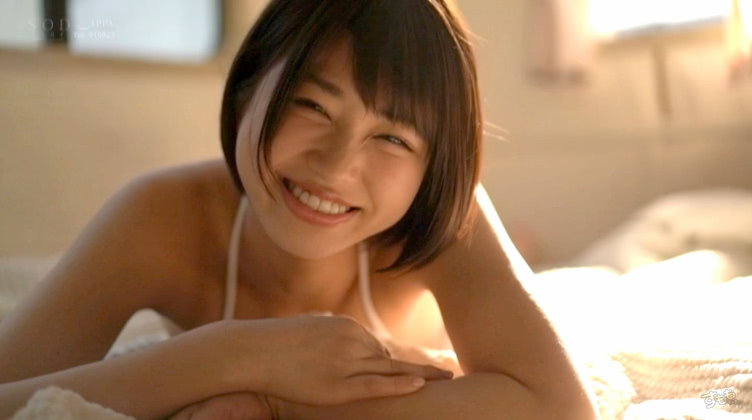 Then there was this pair…