"This goes neatly to the theory that information does not, in fact, want to be free; information wants to be about $5."
— David Dyer-Bennet
As mentioned earlier, I bought almost exactly the right amount of candy this year, and if I hadn't picked up a few boxes of full-sized bars as a reserve, I would have almost nothing left. 109 trick-or-treaters isn't a record for my house, but it's pretty respectable in an era where many kids can't get more than thirty feet from their parents without either being scolded or taken away by social workers "for their own good". Never mind that the tales of abductions and poisoned candy have gotten so stale that they've resorted to spinning yarns about evil-evil-thc-edibles.
In celebration, I offer these four-eyed cuties: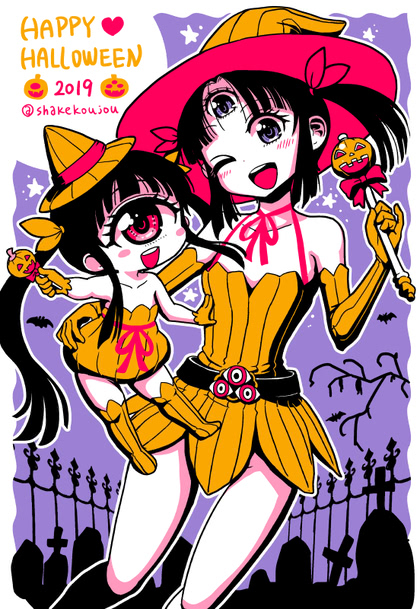 …never said the four eyes were evenly distributed…
Well, that was unexpected…
---
At least it would be unexpected anywhere outside of California, anyway. My power just blipped at home, like they quickly cut over from A to B somewhere along the line, the electrical equivalent of a California Rolling Stop. The side effect of this is that all the Philips Hue bulbs in the house came on at full brightness, and I couldn't turn them back off until the hub booted up and reconnected to everything.
The Internet came back right away, at least, since I have my cable modem, router, and NAS all on UPS. And I've never lost anything else in the house to an outage, which I always attribute to the whole-house surge protector (which could well be a placebo, but I certainly used to lose things in outages, and I've got a lot more stuff plugged in these days…).
In other news, I really, really hope that the neighborhood kids show up in force for trick-or-treat tonight. Last year's turnout was very disappointing, especially compared to the 130+ kids I had the year before.
Final Total
107 munchkins of assorted sizes. I went through about 65 pounds of candy, since it started off slow and I gave out extra-large handfuls (especially to the pretty girls; I am weak). Two more kids and I'd have had to break into the reserves (four boxes of full-sized bars and a big bag of Hi-Chew). So I've got maybe 10 pounds left over, which is much, much better than last year's debacle.
Final Final Total
2 more teens showed up at 8:55 pm, so I gave them each a handful of the full-size bars.
Yuu has been posting on Pixiv for 9 years now, and has improved dramatically from those early sketches.
Here's a little something to warm your cockles. If you have cockles, anyway; they can warm something else if you like, I don't judge.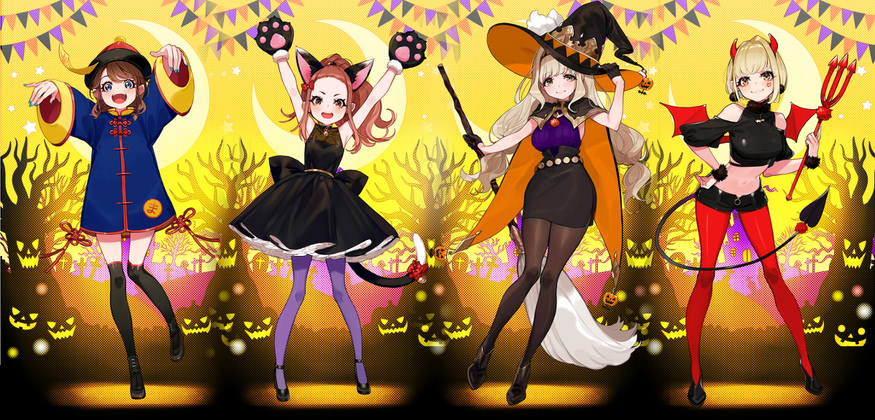 Parked in front of the building today, and saw this bit of virtue signaling on the construction site across the street. Because smoking is the real hazard.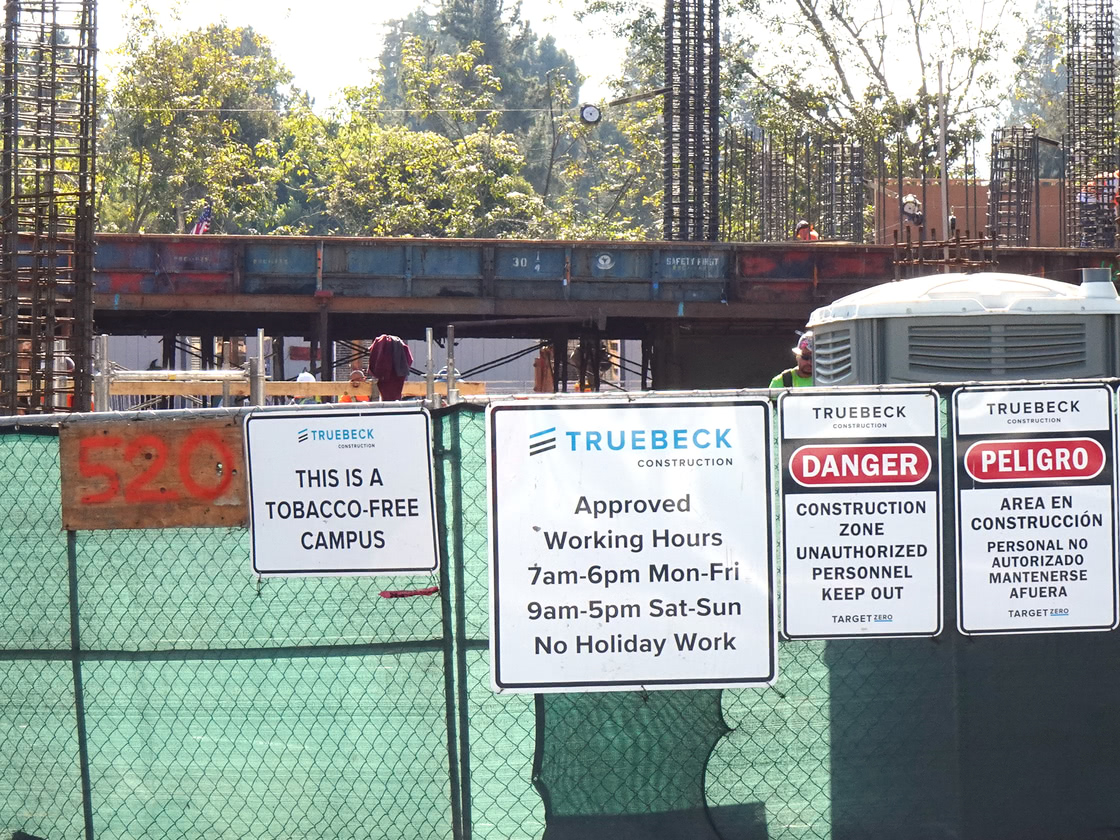 I should do this one for NaNoWriMo:
"Reincarnated In Another World As The Goddess Of Reincarnation, I Reincarnate People In Other Worlds As Reincarnation Gods"
On a personal note, I was surprised to wake up and still have electricity, as PG&E's Five Year Plan of rolling blackouts merrily continues.
We've secretly replaced our shipgirls with Folgers Crystals. Let's see if the recommendation engine notices.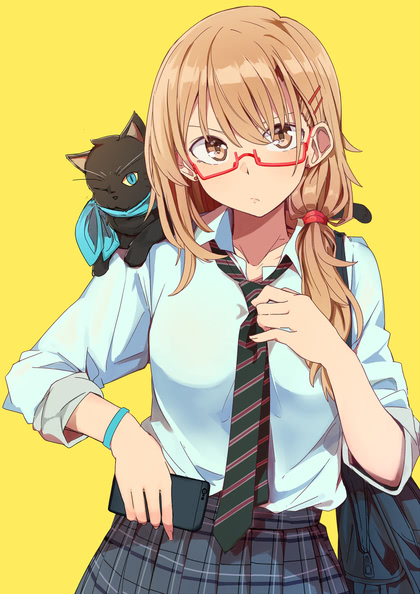 The porch cat who showed up last week has been visiting more regularly, ambushing me when I get home or meowing at my door when I wake up, responding affectionately to petting and food. I was starting to call him Mooch, until this afternoon.
He was sunning himself in the yard when I went out to pick up the mail, ran up and rubbed against me and begged to be petted, then tried to follow me indoors. So I fed him and petted him.
A bit later, I went out to get something from the car, and he started up the chorus again, clearly looking for affection since he hadn't finished all the food yet. In the time it took me to open up a cushion so I'd have a clean place to sit, he'd rubbed up against my legs and hands, and jumped up on the little side table to rub against my arms.
I sat down, and he eagerly crawled into my lap and leaned into the skritching and petting. Then he nipped at my hand. He continued purring and rubbing against me as I moved my hand away from his head and resumed doing the things he clearly appreciated (this would sound less dirty with a catgirl…). Then he nipped at my hand again. And again.
I wasn't holding him in my lap, and he gave no signs of wanting to leave. After each nip, he'd let go and resume cuddling. He clearly wanted me to continue supplying affection, and he clearly wanted to bite my hand.
The next time he did it, his teeth broke the skin on the back of my hand, just enough to draw blood. For that he got the back of my other hand (lightly!), but still sat there wanting cuddles, like nothing was wrong. So I smacked him again to get him out of my lap, took the food dish away, and went inside.
He tried to follow me in, meowing for more attention.
Psycho kitty, I dub thee Yan-nyan.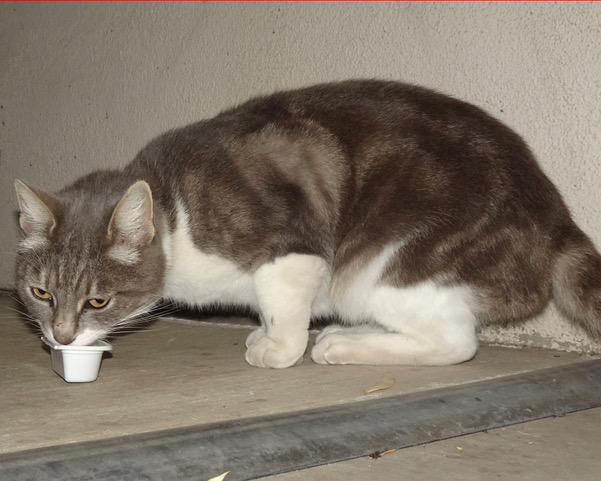 Ah, California, where wind power and electric cars are the future, and wind-induced power outages are the present.