"What's the difference between Sarah Palin and Barack Obama?"
"One is a well turned-out, good-looking, and let's be honest, pretty sexy piece of eye-candy.
"The other kills her own food."
— The Times (London, that is)
shares a joke
Cheesecake: nier_automata
---
Or, "y'know, her" (and friends). I kept seeing fan-art of this visually striking warrior babe with an odd face-mask and a penchant for thigh-high stockings. Thanks to the 50% off Steam sale on NieR: Automata, I now know that her name is 2B, her mission is slaughtering mechanical mooks, and her panties are air-cooled.
Found this in my junkmail folder. It must be really important to be sent to me in California, so I'm sharing it with you as well:
Dear Member,

Due to the adverse weather conditions, please be advised that the swimming pool at Royal Russell School will be closed to members on Saturday 3 March. We are sorry for any inconvenience this may cause.

Kind regards

Vicky Rees
Administration Assistant
020 8657 4433
www.royalrussell.co.uk
This is a real boarding school about an hour south of London, and the email went to my me.com email address, so it looks like I have yet another evil twin who doesn't know his iCloud email address, quite a bit younger than the one in Boca Raton or the one in County Cork.
Well, Amazon Prime has my movie nights planned out for March:
The Color Of Magic (season 1)
Earth Girls Are Easy
Dirty Rotten Scoundrels
F/X
F/X 2
Hackers (just for the young Angelina Jolie, honest)
I'm Gonna Git You Sucka
big batch of Bond films
Valerian (based on the reviews, "free" sounds about right)
Update
Attempted to watch Valerian last night. I had to stop, because everything about it was just dull. At first I thought, "is the guy trying to sound like Keanu Reeves on 'ludes?", then I thought, "is the chick trying to sound like a zombie version of Android from Dark Matter?".
In the end, I decided that Luc Besson had the entire cast snorting the herb Valerian, which is why they all talked like they were sedated.
I think I'd like to see stills of the CGI backgrounds, but they'd be too busy to use as wallpaper on my laptop. They were certainly too busy to enjoy on-screen.
No time yet to look at switching my posting script to use Pixiv or Danbooru URLs, so once more into the Gelbooru.
With apologies to The Weasel Patrol…
---
New Broward County Sherrif's Department logo: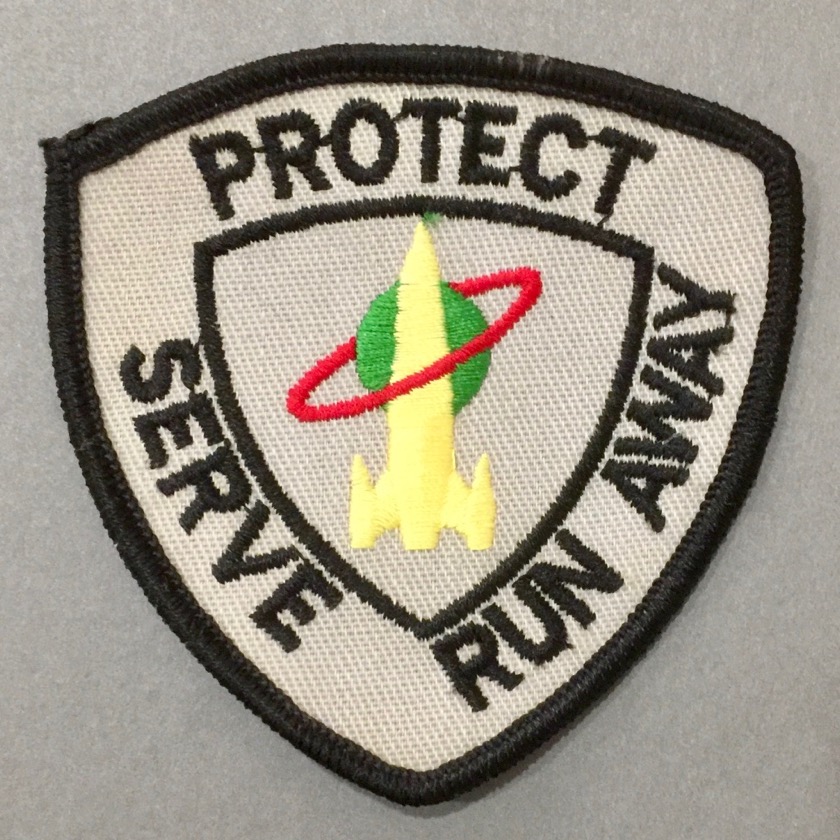 Side note
The Weasel Patrol graphic novel is available from Amazon. The patch is not.
A lot of people are talking about turning the tables on the NRA boycotters by going to progressive bakeries and insisting they decorate cakes with pro-2nd messages. This is unlikely to work, since the sort of people who try to shut down Christian businesses for opposing gay marriage are unlikely to be able to run successful businesses themselves. You'd only be annoying people who aren't really your enemies.
Fun to fantasize about, though…
"Hi, I'd like to order a special cake for a civil rights party."

"Great! We'd love to have your business!"

"I want a big picture of an AR-15 with the words μολὼν λαβέ underneath."

"You what now?"

"Yeah, and surround the AR-15 with rainbow sprinkles, because it's a gay little poodle-shooter."

*click*
There are still ~900 images in the leftovers folder, but I think it's time to start coming up with some new themes, and maybe also move away from Gelbooru to Danbooru or Pixiv as my source. The downside is that I'll have to sign up for them to get decent search capabilities, and of course rewrite my scripts, which currently do everything but fill in the headers.
Just how 'smart' is that TV?
---
Reading through the manual for an LG TV, I came across the following line in the notes:
When connecting via a wired LAN, it is recommended to use a CAT 7 cable.
This must be for the Skynet upgrade, so when your TV asks you to upgrade to a 10 gigabit switch and add multiple fiber drops to the house, just say "no".
I figure it'll start crying like a little girl when I plug it into the 5-year-old gigabit switch that connects to the 50Mb/s cable line through the house's Cat 5 wiring.