I should do this one for NaNoWriMo:
"Reincarnated In Another World As The Goddess Of Reincarnation, I Reincarnate People In Other Worlds As Reincarnation Gods"
On a personal note, I was surprised to wake up and still have electricity, as PG&E's Five Year Plan of rolling blackouts merrily continues.
Dropped!
Didn't I Say To Make My Abilities Average In The Next Life?. Episodes 2 and 3 confirm that this is a steaming pile. The problem isn't that it's a poor adaptation (although it is); the problem is that they think it's a comedy, and they don't know how to write one of those.
High School Prodigies Have It Easy Even In Another World. Let me be clear that the giant breasts were the only thing this show had going for it; episode 3 was so bad that their barely-delivered promise is no longer enough.
I'm willing to pretend that Business Hero's takedown of Snidely Whiplash wasn't suspiciously-contrived nonsense. I'm willing to play along with the genre clichés that are samurai girl, ninja reporter, and loli mad scientist. I'll even give you Politics Hero With A Pistol, despite him being the most boring one in the group. But super-surgeon gal snapped my willing suspension of disbelief like a dry twig, and the wrap-up of the loli catgirl story combined with The Confrontation exposed what little story they have as an exercise in pointless plot twists. Seriously, I felt like watching an episode of Dokuro-chan to regain IQ points.
Dice, Bookworm, Azur, Average, Prodigy
---
[catching up after finishing off the main story in Cat Quest and surviving the run to Zora's Domain in BotW…]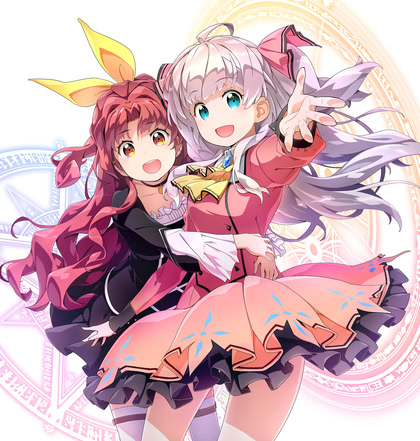 (cover of the next Average book)
After School Dice Club: Ep 2, Enter The Crush, with game Cockroach Poker. Really didn't need a boy in my gamer-girls-doing-gaming-things show. Ep 3: Incan Gold subtracts the boy, adds two older girls, and actually has a plot twist.
Ascendance Of A Bookworm 2 & 3: after the first one, I ended up reading the first two light novels, and it's tracking pretty closely. This seems to be a rare case where they realize they have good source material and are actively trying to use it well. No complaints.
Azur Lane: dropped; due in large part to the giant (tee-hee) cast, the story is incomprehensible, and the fan-service is being done better by fans on Pixiv.
Didn't I Say To Make My Abilities Average In The Next Life? Ep 1: "Ain't no 'Adele' here!" I presume Mile's first 2.x years in her new world will be told in convenient flashbacks. This is another case where I took a look at the light novels, and the anime team has jumped over several chapters and made some significant changes to what they're using. It looks like the manga started in the same place as the novels, so this one has a whiff of trainwreck about it. Also, the novels quickly turn into girl-power-power-fantasy, with Mile not only being able to do anything while pretending to be "normal", but also power-level her friends with a few quick tips. It gets old fast, even with her finally starting to figure out that she was sold a bill of goods by her reincarnation advisor.
High School Prodigies Have It Easy Even In Another World : Ep 2, Enter The Loli Catgirl. Our Business-Hero proves his worth to the village skeptic, and acquires his future waifu. Side note: Business Hero's voice sounded familiar, and while his DanMachi character Takemikazuchi doesn't get a lot of lines in the anime, I hear him a lot in the DanMemo game.
The Ghostess With The Mostest
---
I missed Yuuna And The Haunted Hot Springs when it aired. An assortment of screenshots and short video clips convinced me to give it a shot, and I found it a perfectly delightful harem comedy. Sadly, there's no US Bluray release, and Crunchyroll has the steam-and-lightbar-censored broadcast version, and they don't have the 3 uncensored OVA episodes, so off to the torrents we go!
(NSFW after the jump)
There's gotta be a pony in there somewhere!
---
New anime series I'm going to give a shot:
Saturday Update
Gave Cautious Hero: The Hero is Overpowered But Overly Cautious (funimation) a shot. The OP song was so bad I skipped over the credits, which is never a good sign. The in-your-face trope-awareness and self-conscious wackiness was… discouraging, to put it kindly. It would have been less awkward to have signs popping up that read "laugh now".
Looks like Average starts Monday.
The producers of "High School Prodigies Have It Easy Even In Another World" (crunchyroll) certainly know how to set the mood with the opening scene: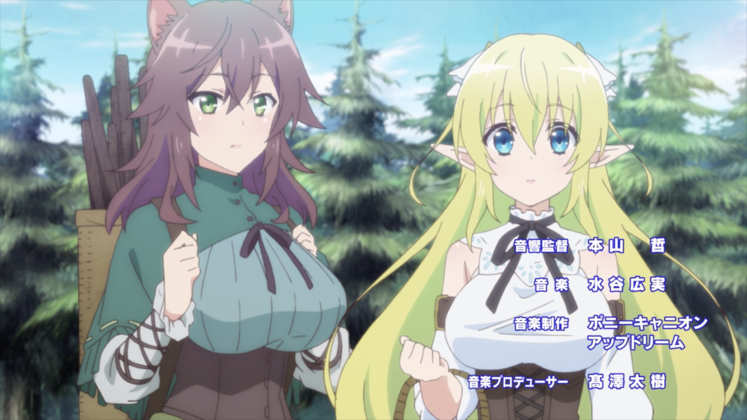 Interestingly, the official web site has a full English translation.
I've got wood for your sheep…
---
After School Dice Club, in which cute girls do cute things with board games.
I think they've got me with this one…
Episode 11: cops do cop things, shallow allegories do shallow allegorical things; Our Heroes outnumbered, a wild villain appears!
(in the final scene)
Episode 12: talk-talk, talk-talk, talk-talk, fight! voiceover, decision, and…done. Our Heroes ride off into the sunset, to adventures that will never be animated.
The mostly-straight adaptation of the first novel was good. The chainsaw-and-superglue attempt to race to book six as the finale, not so much. Honestly, they used the middle novels and the supporting cast so little and so poorly they'd have been better off jettisoning it all and focusing on Our Heroes versus Zelada.
Focus. That's what was missing. The vampire story from book two? Interesting, but nonessential, with dangling plot threads that went nowhere. Tirana's undercover work and cute whore girlfriend, which was apparently anime-original (replacing her going undercover as a schoolgirl and losing a completely different friend)? Some nice character development, ruined by the baffling decision to completely ignore Tirana's justifiable thirst for revenge, start the next episode as if nothing had happened, and put her into the cat's body for an episode and a half. And then suddenly we're in book six, and as that story starts to unfold, they break it up with a clip episode. WTF?
The alternative, in the hands of a good team, would be to build on the source material and set up the confrontation with Zelada for a second cour. Do the cop stuff, do the wacky stuff, flesh out the supporting cast, and leave the audience demanding another 13 episodes.
So much potential, so sadly wasted. I'm not sure it even works as an ad for the novels, although the first few episodes got the whole set into the top 20 on Amazon Japan briefly. Since then, book 7, originally scheduled to come out in September, has been delayed, and doesn't show a release date.