What's the headquarters for all Strike Witch forces?
What's Okina Kamino up to these days?
---
The Asobi Ni Iku Yo novels ended at 20 (I haven't gone back to see how/if he wrapped it up). Cattail Output (the spinoff featuring an undercover Melwin) only ran for 4. He had another long series Hashire, Ute that was up to 12 books, but I don't know much about it, apart from the loli cover girls.
It looks like his current series are mutants and yet another boy-goes-to-fantasy-world story. And this: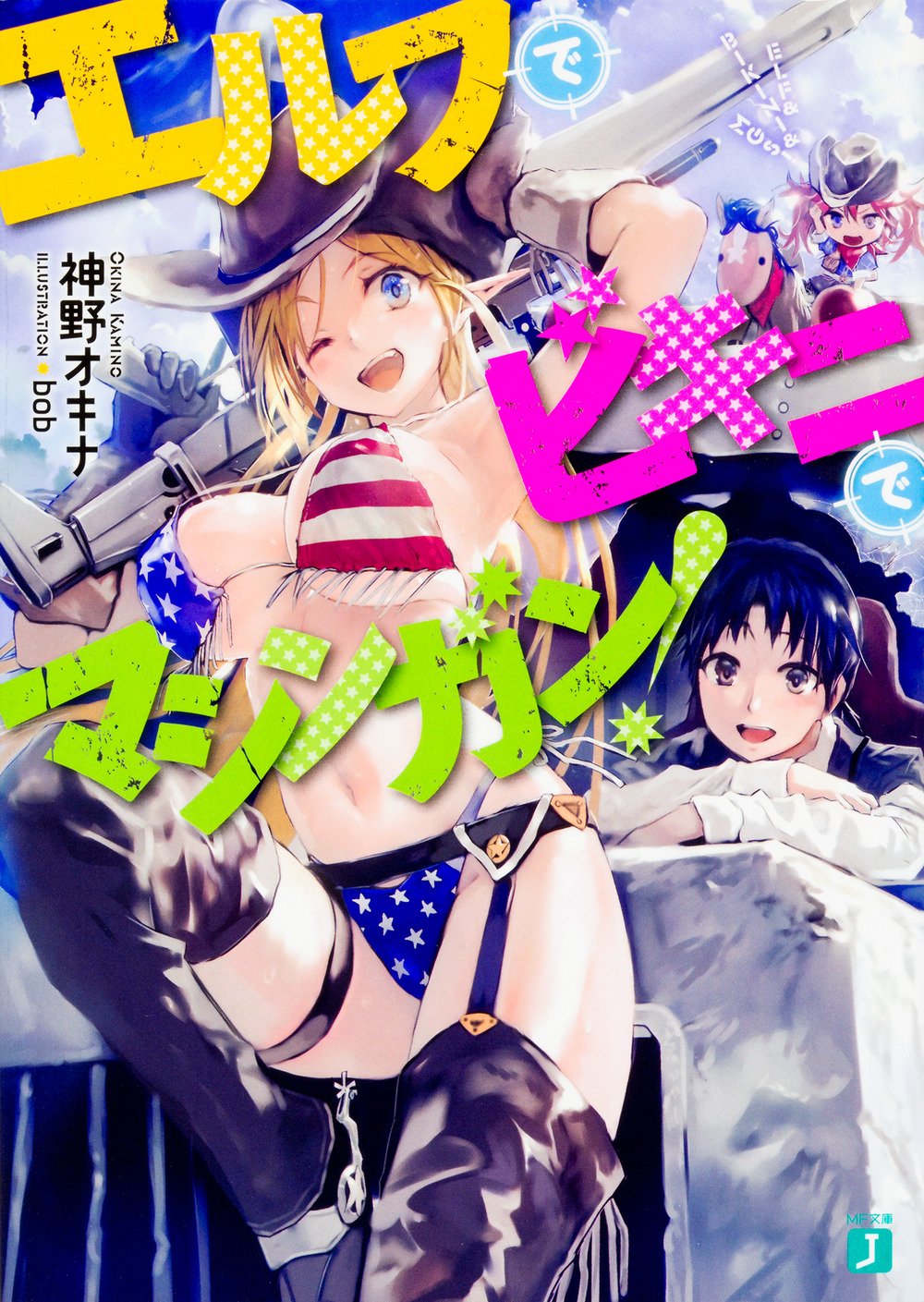 At least I hope it's a series. "Machinegun with Elf and Bikini" has clear potential.
Songs written specifically for the credits of an anime series tend to be so carefully designed for a 1:30 runtime that it's difficult to expand them to full-length songs, or to come up with a fitting live video featuring the performer. Two notable successes are the OP songs from Kannagi (which I can only find in a low-res version on an obscure Chinese video site…) and Bakuon, both of which make full use of their quite appealing singers.
The folks responsible for the My Hero Academia ED song Dakara Hitori Ja Nai, however, clearly had no idea how to seamlessly expand 1:30 to 4:20, and the video director wasn't content to rely on the appeal of the five pretty young women who make up Little Glee Monster. The result is… interesting. I count at least three kitchen sinks.
Confessions of an Invisible Girl…
---
I tend to skip the OP and ED for most series after seeing it once or twice (or in the case of Noir, "frantically stabbing at the remote to escape that damn song"), but while watching the second season of My Hero Academia, I always watched the first ED. Great focus on the girls, with a matching song.
Between this and watching the two OVAs, though, it's clear they haven't thought much about Invisible Girl as more than comic relief. She's always invisible, but objects touching her body are visible, so her hero costume is "full nudity with gloves and boots" (which she takes off for stealth). And there's no hint that she has any sort of enhanced toughness as part of her quirk.
So, in the training scenes where they've all been running around and then an explosion raises a huge dust cloud, her sweaty naked body should collect a coat of dust. And when they're getting bounced around by explosions or running through rough terrain, she should end up covered in (invisible) cuts and bruises.
Based on the condition of the other students at the end of the "Training of the Dead" OVA, she must look like a mummy from all the bandages they'd need to patch her up. I think she needs to have a chat with gadget-girl Mei about coming up with some transparent defensive gear; a sports bra and short-shorts, at the very least. That would also make her future hero career less of a gropefest.
Best Girl: Pinky or Froppy?
---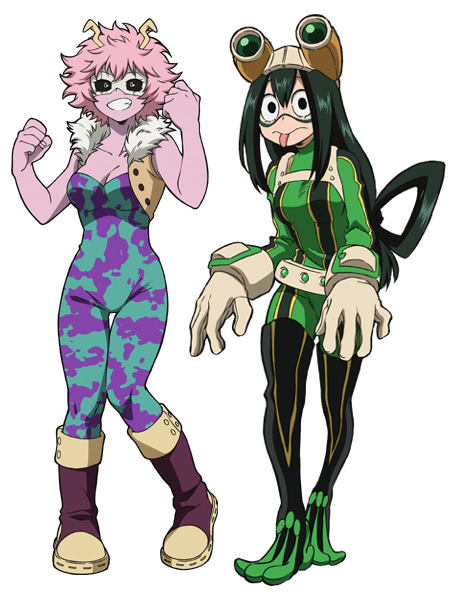 My Hero Academia didn't sound like much when I first heard about it, so I kind of forgot it existed. Over the weekend, I was bored and it was available on Hulu, so I watched the first episode.
Then all the rest. It's pretty good, well-drawn with some genuinely interesting characters, and despite the immensely tedious recaps that pad it out, the story doesn't suck.
(tip: don't marathon this show unless you have a convenient and reliable skip-forward button)
The answer is "not much, really". I bounced hard off of The Orville (which one of my friends actually thinks is great, proving that he's taken one too many shots to the head ("Hi, Rory!")), and there really doesn't seem to be anything else on cable that sounds even vaguely interesting.
For the most part, nothing really happens in this well-drawn, slow-paced series about why a little hole-in-the-wall Tokyo restaurant really shuts down one day a week. Relationships between the owner/chef and his fantasy-world customers develop slowly, and it looks like there are even a few honest-to-gosh spoilers coming, but for the most part it just drifts along with diner-of-the-week stories and some rare mild fan-service. Next up: the restaurant gets a clothing-challenged second waitress.

Legends Of Tomorrow, season 2

Finally catching up on this show, and wondering why I bothered. I already knew most of what happens, the writers have a pretty shaky grasp of the historical eras the team visits, the main villain was more interesting when played by the other actor, Nate is dull even with powers, Vixen's WWII-era attitudes appear only when convenient to the plot, etc, etc. I think I'm pretty much done with the Flarrowverse.
Mauser reminded me this existed and I never watched it. Short, fun, mostly stand-alone episodes, with cute character designs familiar to anyone who's seen Hand Maid May et al. It's a pleasant diversion.
Coming Soon
The only new anime series that I have any interest in right now.
I really liked the first few episodes, but got sidetracked and haven't gotten back to it yet. Definitely one worth finishing.

Preacher

Sometime I'll get around to marathoning the first season, and quite possibly the second. What little I've seen of it has been a decent reimagining of the comic, but I just haven't been in the mood for it yet.
I can't trace the origin of this NSFW "commercial". The product is real, but I have just the tiniest little hunch that the video is not authentic.
A few months ago, I observed that DanMachi must be doing well, because there were two series of spinoff novels, in addition to the manga and the anime.
Well, guess what? There are also two 4-koma manga series (1, 2).
Pretty sure the second season of the main series is on the way, although I don't see any announcements.