"We did this calculation; if all the ice in the world melted—Greenland, Arctic, Antarctic, everything—and then we had the world's largest recorded tsunami right in front of the seed vault. So, very high sea levels and the worlds largest Tsunami. What would happen to the seed vault? We found that the seed vault was somewhere between a five and seven story building above that point. It might not help the road leading up to the seed vault, but the seeds themselves would be ok."
— No, global warming
didn't flood the seed vault
Are you sure you're allowed to advertise to kids this way?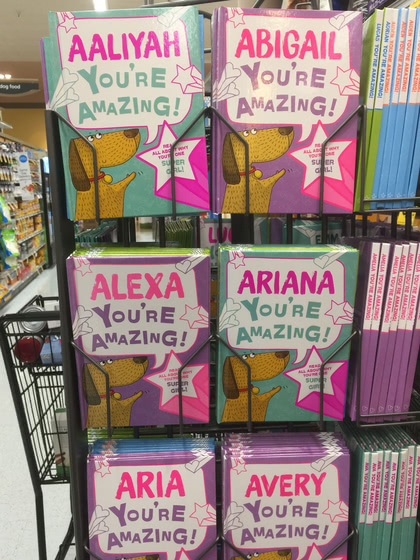 Update
Grrr, I hate EXIF image-rotation and applications that don't convert it to actual rotation on save.
Reminder for the next time I need this…
mogrify -auto-orient foo.jpg
(lossy, but quick for images I intend to resize down for the blog anyway)
Politics Should Be More Like a Starbucks Menu
You mean overpriced, pretentious, anti-competitive, and burned? I think we're there already.
After some unknown action on your server has silently deleted most repo/wiki directories for a group (~git/git-data/repositories/$group/$project.git), how do I tell it that I have restored the data from my hourly backups?
Currently it shows "The repository for this project does not exist".
Honestly, it looks like something tried to delete the entire group and aborted 2/3 of the way through.
Update
Ah, the answer is gitlab-rake cache:clear; now, about how they were deleted in the first place…
Harry Dresden Christmas story
---
Missed this when it came out.
"Call Kris Kringle a liar on Christmas Eve one more time."
"L—"
I think journalists are offended by "learn to code" because they're too busy showing off their mastery of CODEC: Crying Over Dead-End Careers.
To celebrate California getting drenched, I found some wet dreams…
On an iPad Mini 4 under iOS 12.1.3, Mobile Safari crashes every few minutes. I really hope you already know this…
Update
Oh, I see, it's the same old "crash after iCloud history is cleared" problem, being triggered more often because desktop Safari is now obeying the "Remove history items" preference more reliably.
File under peculiar the fact that neither his IMDB nor Wikipedia entries mentions Christian Kane's short-lived cooking show, Kane's Kitchen.