"Remember in the Lion King when Scar cheated to win the title as king? And the pride land was overrun with the hyenas? And all of the lions lost everything they had built and maintained? Just asking. No reason."
— Donald Trump, Jr
…and now for last week's anime, which I did not watch at 70 MPH on a truck.
Shield Hero, episode 2.4
Oh, look, more characters from last season that I'm supposed to remember! This came after most of the episode was focused on Our Noob Girl, and most of the rest was about Our Doomed Royal Ho, while Our Shield Hero and Our Raccoon Child Bride didn't have much to do, and Our Big Bird was just transportation. This… isn't going very well.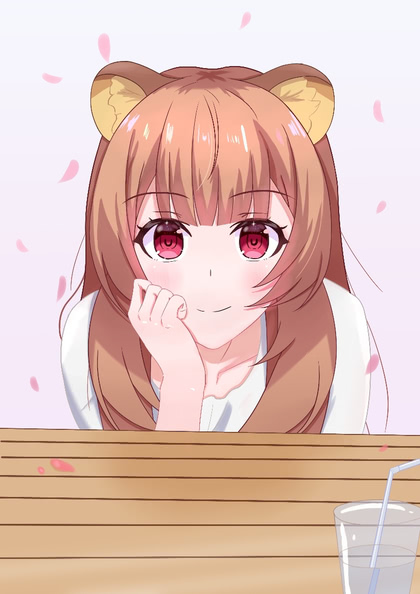 RPG Real Estate, episode 4
Oh, no, another customer with a hard-to-satisfy-no-wait-that's-perfect living requirement, this time mixed with a bit of inter-personnel conflict. And by conflict, I mean slapstick comedy, or at least slap-tail. Then Our Ambitious Priestess learns that her childhood home is being demolished and replaced with condos, and we get a trip down memory lane with a detour on the road to yuri. Fluff, perfect for recuperating from a four-day drive followed by an awful lot of box-shifting.
Next week: bikini beach-house, with Our Boobie Newbie attracting jealous and/or hungry eyes from her co-workers.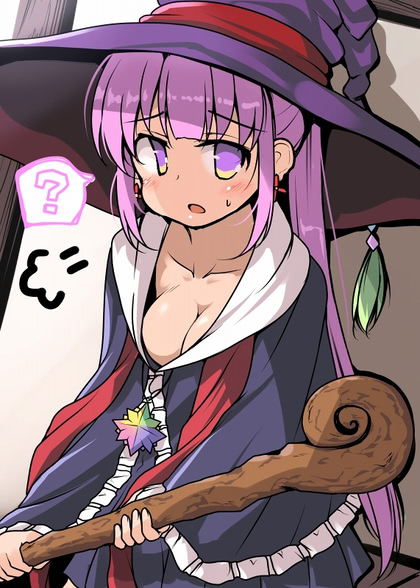 Skeleton Knight, episode 4
Yeah, so in this world even the mooks twirl their mustaches to show off how cartoonishly evil they are. And someone apparently told Our Curvy Hot Elf's voice actress to go full dere-dere for Our Bony Hero right away. I think they spent more time on her boobs than on the story, which may be for the best; at least that might inspire some decent fan-art.
Not yet, though.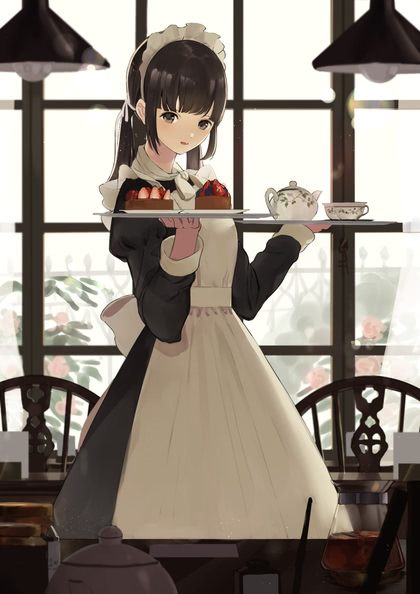 (picture is completely unrelated)
Demon Girl Next Door, episode 2.4
In which Our Demon Girl sets out to find more info on Momo's Missing Mentor, but ends up becoming a waitress in a café. I fell asleep during this one. Not necessarily the episode's fault, but it just didn't hold my attention as much as usual.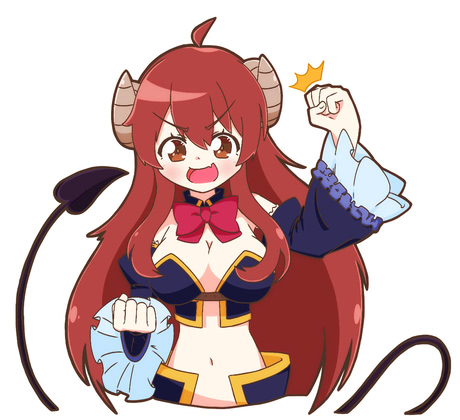 Komi, episode 2.1
In which Our Komi recaps her friend list, and Our Latest Misunderstood (and Misunderstanding) Weirdo is quickly sorted out by Our Hero's well-honed interpretation skills. Then it's a battle to the… whatever as Our Psycho Lesbian crashes a study party in Our Chuuni's bedroom. Finally, Our Hero and Our Komi silently show their awareness of each other's difficulties. The days are just packed.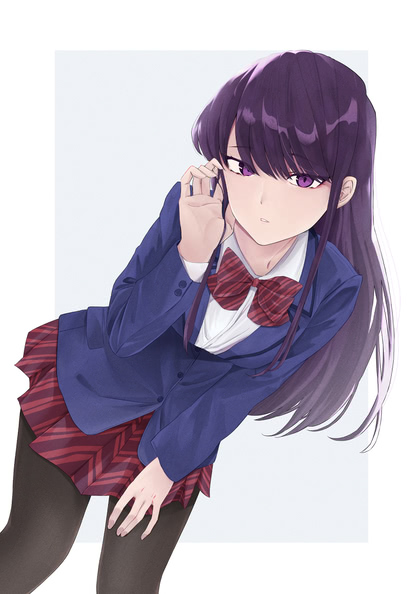 Home, SweetNeglected Home
The previous owner of my home was a widower in his nineties, in a wheelchair. I knew this, but had not thought through some of the implications. Home inspections focus on major defects, and do not necessarily test every little thing. Like the garbage disposal that had rusted in place after years of non-use, or the clothes dryer that worked but did not dry due to being clogged with at least a decade of lint.
I did know about the 12-inch-tall toilets, and had them on my list, so when I had a plumber come out to replace the disposal, I threw the other items at him as well, and got it all taken care of at once. By the end of the week, I'll have a Toto Washlet seat to go with the new comfort-height toilets, and as soon as the electricians come out, I can add them to the other bathrooms as well.
While I wait for the POD to be delivered on Tuesday (hopefully to the top of the driveway…), I'll be dealing with a flooring guy and a locksmith. I'm going to replace all of the wall-to-wall carpet as well as the tile and vinyl, and the locksmith is fixing one of the deadbolts that was mis-drilled so that its bolt has only been secured by the thin strike plate rather than the full-depth hole. Ironically, it's the kind of deadbolt that has keys on both sides, so that someone couldn't smash out the side windows and unlock it from inside. (I'm not fond of that, either; I'm thinking Level Bolt)
Meanwhile, Molly Maid will be doing a move-out cleaning service this week at the old place, so the realtor can bring in his staging people and get pretty pictures made for the listing.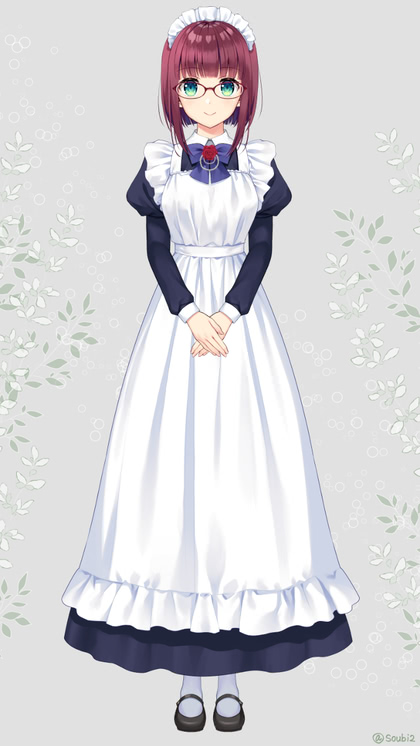 Comcast Business: piss-poor customer service
Nowhere on their web site or call tree do they mention what hours customer service is open. In fact, the web site says 24x7, and the folks at the local Xfinity believed that as well. I had to call the corporate offices at 215-286-1700 to find out. I'm sure they blame Covid, but I'm smelling deliberate efforts to make it difficult to stop being a customer.
Also, nothing on the web site tells you that they require 30 days notice, so the rat bastards are going to bill me for another month, when I'm 2,400 miles away and the house is empty and up for sale.
I have nothing but nice things to say about the technical support I've received from Comcast Business. I have no nice things to say about their customer-reaming service. Fuck 'em with a rusty chainsaw.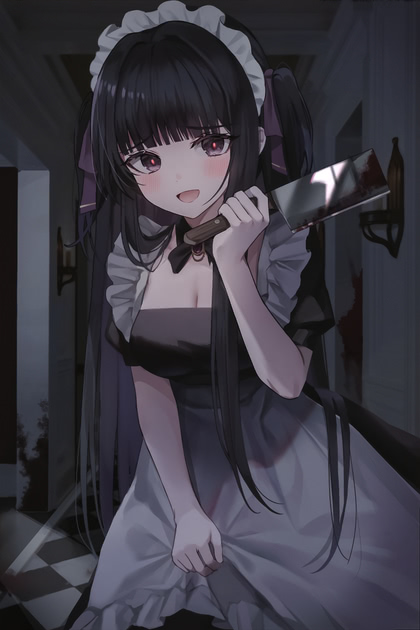 Monday's Lesson
I wanted to know what day they came by to pick up my trash and recyclables, so when I opened the door to go out and run some errands, I was happy to spot the truck about twenty yards from my driveway, and quickly took the first batch of move-in trash down to the street.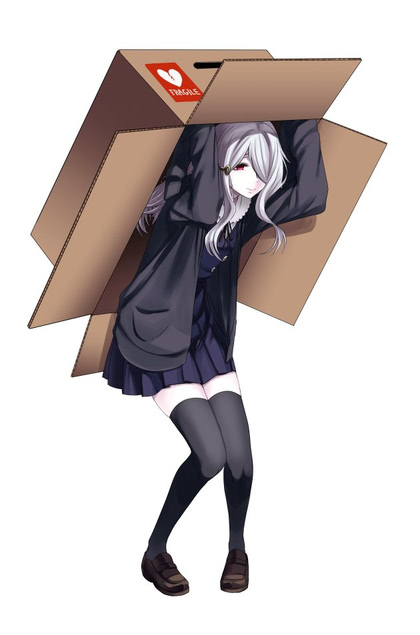 I really need to do something to shift the R-18 Discovery page on Pixiv. Despite it being Not My Bag, Baby, the page has started to suggest an awful lot of shota and otokonoko content. This is odd, because until recently it was heavily biased toward your most recent bookmarks, and while I've had a few traps sneak into the cheesecake roundups when it wasn't obvious, I've definitely never made a habit of actively clicking the like button on that stuff.
My tastes bend over lean towards… something else.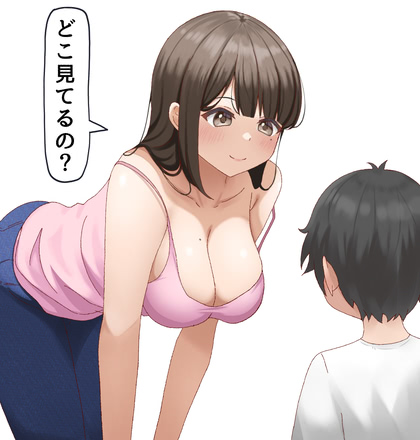 Season Of The Waifu
This season's hotness for fan-art appears to be Yor Forger, whose marriage-of-convenience-for-now makes Our Killer Waifu an actual wife. Clearly, Anya's mom has got it going on. (pixiv).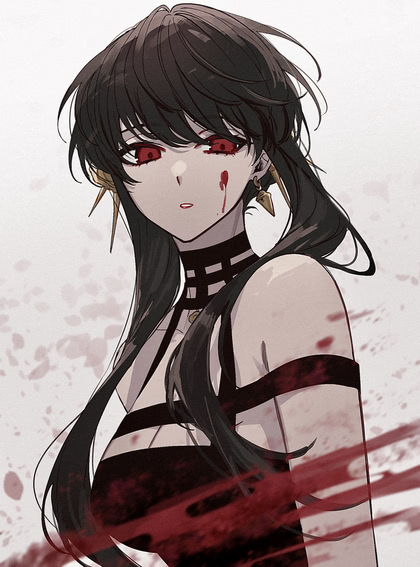 Fun fact
You can't cancel Comcast Business outside of normal business hours. You can, however, return the equipment to any Xfinity store and get a receipt, so I won't have to mail it back from Ohio to avoid an equipment charge.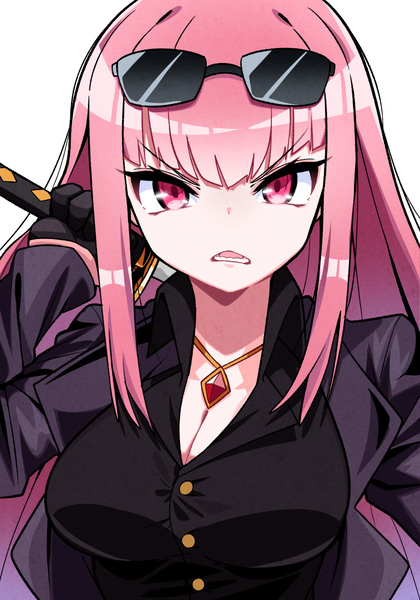 Scared Straight
Dear Best Western of Salinas. It is not reassuring that the nearby attractions page on your site lists, in the Education category:
30.00 mile(s) from Soledad Prison
I decided to put my brother up somewhere else for the night…
Packing time
I figured it would take about eight hours to finish packing up what was left after loading the POD and get it all onto the truck.
My brother looked at my house when he arrived and figured 12 hours.
Two 12-hour days plus two hours later, with terrific help from my neighbors for about 6 hours, we were on the road. Toward the end, my definitions of "goes to Goodwill" and "goes onto junk truck" got considerably more aggressive, to the point that quite a bit of nice stuff "ended up in neighbor's church donation pile".
We didn't so much run out of truck space as we did time and interest. Kind of a slash-and-burn version of Marie Kondo's "does this spark joy?".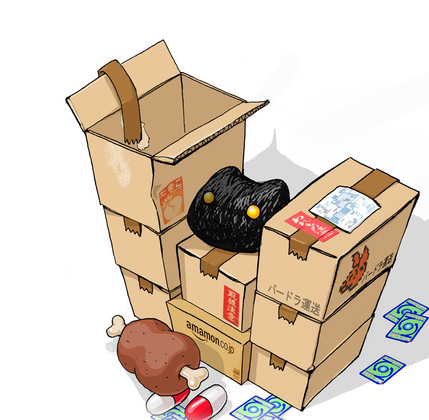 Eighties Aerobics Instructor
Early in the trip, Waze switched from the usual voice to "Eighties Aerobics Instructor", complete with commentary that was a cross between dumb-blonde jokes and dad jokes. I don't know how it happened, and I did not like it.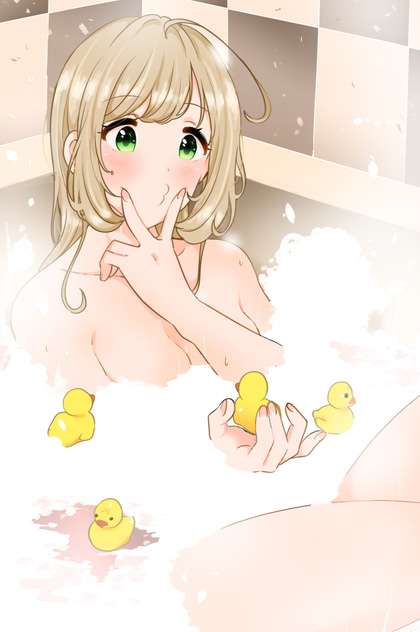 Fuck Dirty Birdies
First day, we got a bit of a late start (the two hours), and arrived at the Elev8 Hotel in Flagstaff at 10:30 PM. The guy at the check-in said, "hey, no problem, there's a sports bar across the parking lot that's open until midnight; they also do our breakfasts."
The sports bar was open. Their kitchen was not. It closes at 10 PM. This is not mentioned anywhere on their web site or, y'know, front door.
I ended up using Uber Eats to get dinner from Denny's, and a country-fried steak with fries and onion rings arrived quickly. Pity I'd ordered something else entirely, but I ate it anyway, because tired-and-hungry.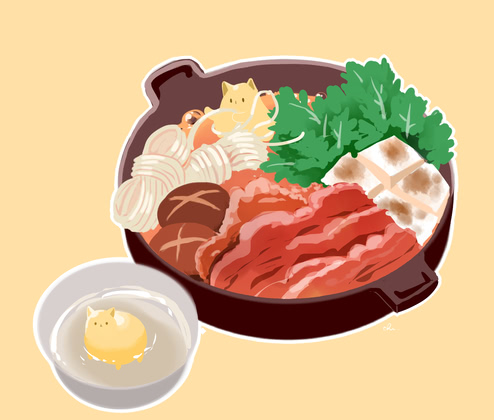 Time-traveling mortgage payment
On the second day of driving, I got a call from an unfamiliar number while my brother was driving. I let it go to voicemail, since the truck was pretty loud.
When I played it that night at the hotel, it was from the mortgage company for my new house, saying my April payment was late. My loan contract clearly states "first payment due: May 1".
What happened? They had specifically asked me to wire the down-payment to the escrow several days before the closing day (since it was all being done electronically), so the billing department was using that day as the start of the loan, not the actual contract date. The large packet of papers signed during the closing were inconsistent, with most saying May and one saying April, but since they were all signed, I actually did have to make the payment, but there wouldn't be a late penalty because they fucked things up. They wanted to do it on the phone, while we were in the truck. Yeah, no; I stopped by a branch in person after I'd arrived.
[side note: there was no trace of an April statement in the mail at either the old house or the new house]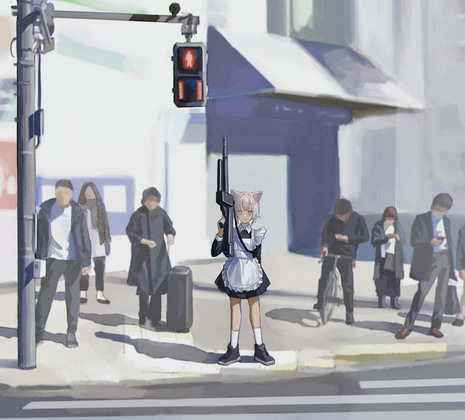 Sniffle hoarse
Sorting this out from the hotel and the truck over the course of the next day, with half a dozen different people involved, was complicated by the fact that my voice was completely shot due to a major sinus infection triggered by the amount of dust raised during the pack/pitch adventure.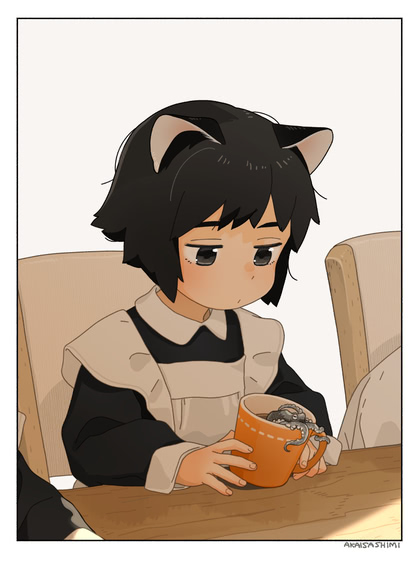 Dinner at Niemerg's
Because we crossed two timezones during the second day of driving, even an early start wasn't enough to let us have a good dinner that night. Since I felt my brother deserved at least one, while he was driving on the third day I used my iPad to find something that had good food, good truck parking, and would be open long enough for us to relax and enjoy our meal.
Since we were facing one more timezone change getting to Terre Haute, I looked for something about an hour before there, and found Niemerg's Steakhouse in Effingham, IL. They're about a block and a half off I-70, with a nice big parking lot.
Except for the waitresses, we were the youngest people in the place. It was all local senior citizens who'd clearly been coming there for many years. This is a good thing. Service was fast, friendly, and competent, and the food was tasty. We'd both eat there again, although I think I'd skip the steaks and try other items on their menu; they weren't bad, but definitely a "midwestern steakhouse from the Seventies" style rather than an Outback, etc.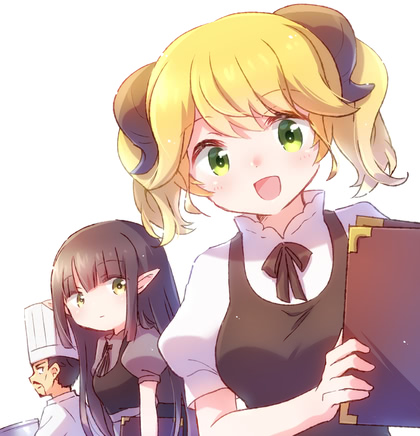 Hotel Life
The Home2 in Terre Haute has Conway's Life for bathroom wallpaper: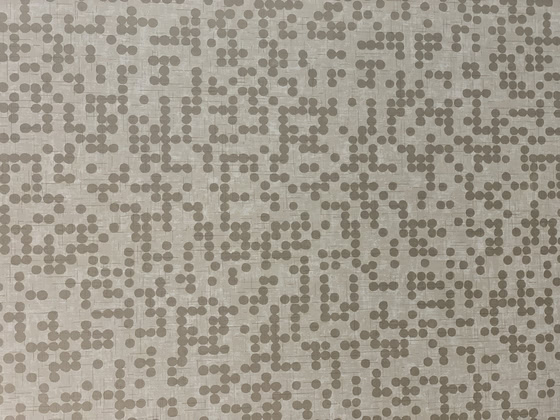 Left-handed car discount
After we backed the truck up the driveway to my new house ("Dear Penske, thank you for the back-up camera"), we relaxed for about half an hour, checked local dealerships to see who had something decent on the lot, and then I decided to go to the local Kia dealer to lease a Sorento.
They had two on the lot, and the salesman grabbed the keys for both and walked me out to test-drive the one I preferred (SX, dark blue). He handed me the key that was in his right hand, and my brother and I did a quick highway/neighborhood drive while he started the preliminary paperwork, just in case.
…based on the serial number attached to the key in his left hand. Which was for a car several thousand dollars cheaper.
TL/DR: I had to go back the next morning to re-sign the lease paperwork and get temporary tags that matched the VIN, but they had to honor the price, so even with the current shortages, I got about $4,000 off on a brand-new car.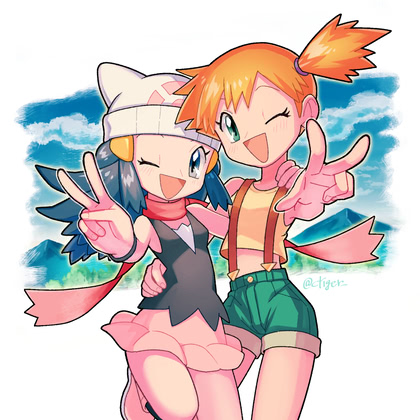 "Gosh, that looks legit!"
Until I got internet installed Friday morning, I had to tether my laptop to my phone to go online, which meant no ad-blocking, and this little beauty showed up on American Thinker:

Full Spectrum
Speaking of internet, the installer arrived about the same time as the two guys we hired to help unload the truck (who were awesome, and each got a well-deserved $40 tip), and after about an hour, he reported that he was all done, and I could plug in a laptop and check it.
I asked him what my static IP block was, and his face went blank. He checked the paperwork, and said he'd need another half-hour. When he was done, I found three boxes plugged in: a cable modem that's just for the VoIP service I had no use for but that made the bundle cheaper, a cable modem that delivered the 600/35 Mbps line, and a wireless access point that delivered the five static IP addresses.
I didn't order their wireless service, and I certainly didn't want an AP that was handing out public addresses, so when I reached the box that had my OpenBSD router and AP inside, I removed their wireless from the path and… nothing worked.
tcpdump showed me plenty of traffic on their network, but I couldn't get out from my router. After fifteen minutes on the phone with a tech, I understood the problem: the only cable modem they had that was compatible with the 600/35 speeds couldn't handle bridging the static IPs directly, and the only device they had on their trucks that would was the wireless AP. It uses DHCP to pick up a public address through the modem, learns the route for my statics, and passes them through to its built-in switch.
I asked about disabling the wireless functionality, and he had to do it for me, since all three of their devices are managed at their end. So I have to put up with the extra wall-wart and minor power consumption, but the rest of my setup is identical to the old house, so Everything Just Works.
(it was possible for them to configure things so that my OpenBSD box would pick up a routable IP via DHCP and learn the routing for the statics, but they'd have had to do unsupported work on their end, which means that I'd likely get a confused tech the first time I called in for a real support issue)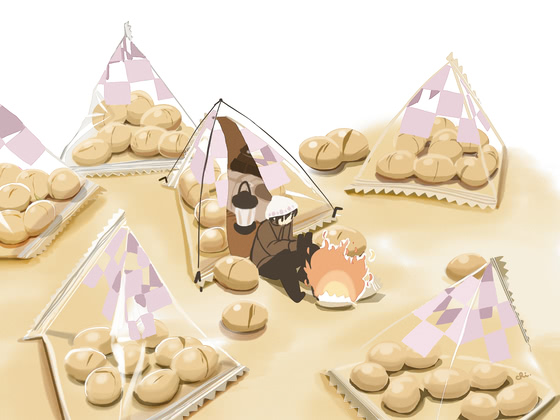 Bunny!
This morning I saw a bunny hopping across my patio. Looked out, and found she has friends. I'm good with that.
Welcome to the neighborhood!
Met the neighborhood busybody, and I mean that in a nice way; it's just that she saw me in the driveway when I had things to do, came up to say hello, started up a rambling conversation about all my neighbors that aggravated my sinus-induced hoarse voice, and then headed off to her next appointment. I promptly forgot almost everything she told me, but I did learn that the house behind mine, which has a pool and a trampoline, was until recently the site of numerous teenage parties, until the just-eighteen daughter graduated and went to spend time with her mother until she moves into her college dorm in the fall.
So, the good news is "no loud parties", and the bad news is "no eighteen-year-old girls bouncing on the trampoline". But I have bunnies in the yard, so we'll call that a wash.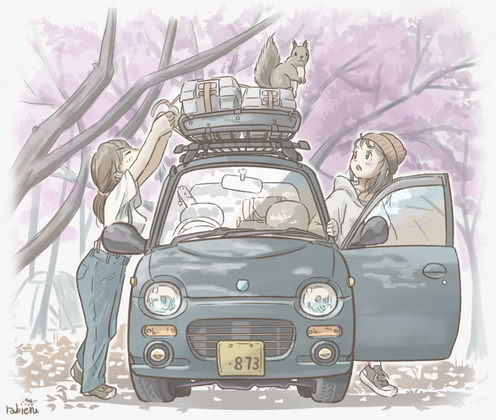 I'm on easy mode this week, as my life is consumed by packing, so here's a batch of pretty girls randomly selected from my ever-growing collection of modern and vintage cheesecake.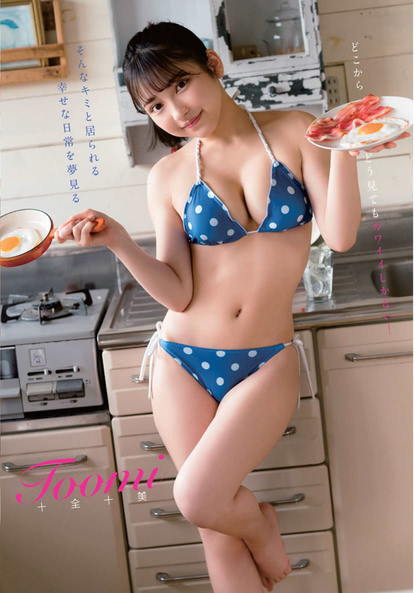 Given the frequency with which A-cup angst appears in anime, you'd think there'd be a lot of images on Pixiv tagged ぺたんこ(petanko, flat-chested girl). Surprisingly, though, it's much more common to see ぺたん座り (petan-suwari, sitting flat, aka "w-shaped legs").
Shield Hero, episode 3
In which Sacrifices Are Made For The Greater Good, and The Big Bad is… oh, wait, nope, gonna continue for another episode.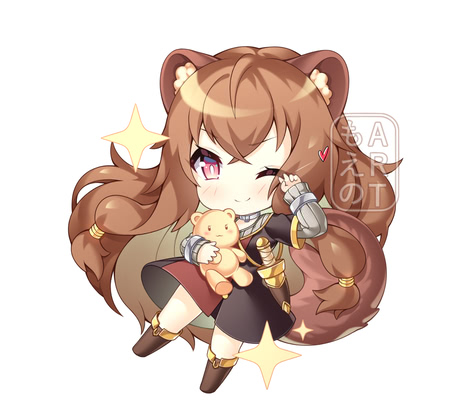 RPG Real Estate, episode 3
In which softballs are pitched and quickly hit, without the fan-service being turned as high as last week. Fluff.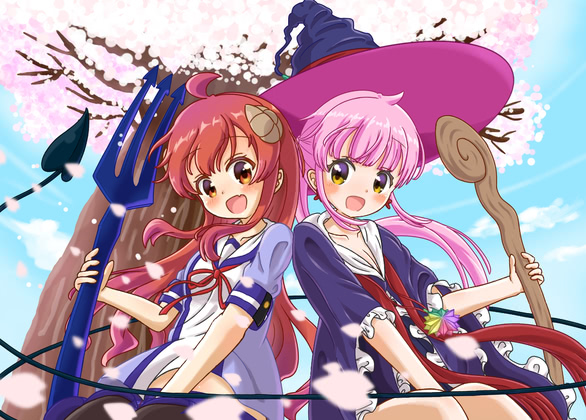 Skeleton Knight, episode 3
Our Bony Hero meets Our Hot (and quite deadly) Elf, impresses her with the powers of friendship and fluff, and together they kill a lot of people, offscreen. They're really dodging the blood&guts side of slashing and stabbing people with swords.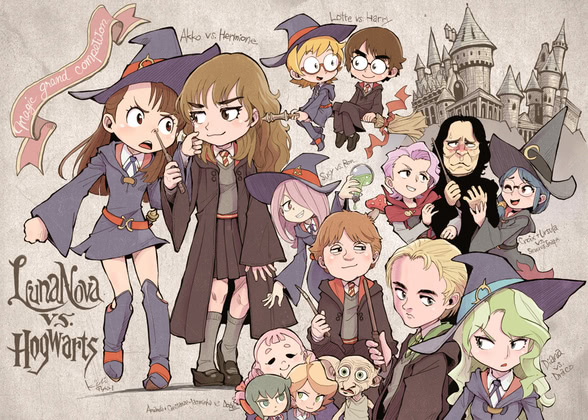 (picture is definitely unrelated)
Demon Girl Next Door, episode 3
I know I'm not writing much about this one, just enjoying it. Maybe next time.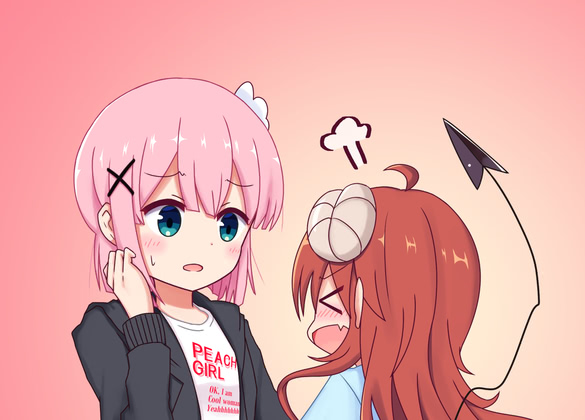 Not following the narrative…
I chatted with one of my neighbors (who, like ~80% of Salinas, is hispanic) after the POD showed up, and he commented that when his wife found out I was leaving, she said, "I hope we don't get more loud Mexicans moving in". 😁
They're thinking of moving to Texas, and kind of wishing they'd done it sooner…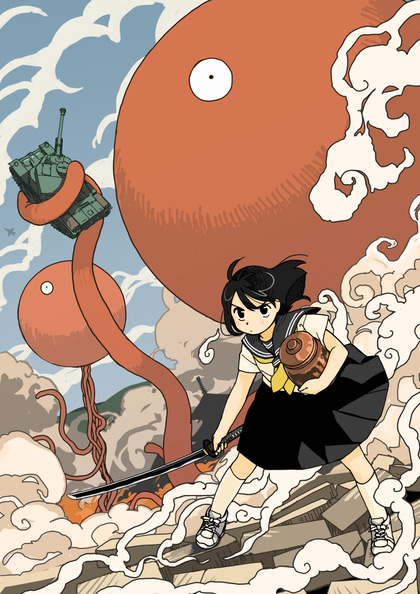 GNU Taser
Excuse me, Taler, apparently the cornerstone of Stallman's latest 90-minute rant. The web site is surprisingly slick for a GNU team; I suppose this is because they have to sell the idea to banks, retailers, and regulators in order to move it from fuzzy concept to niche payment system.
The only nice thing I can say about it after a very quick skim is that it explicitly disavows the use of blockchains. On the flip side, all of the features that are pitched to governments and banks will make it far less attractive to the primary users of crypto.
Does it actually exist yet? Apparently they launched a proof-of-concept college snack machine in the fall of 2020. That's the latest news…
(no bread was harmed by this tasertaler tale)
Dear Michelle Megumi,
"Try not. Do. Or do not. There is no try."
Seriously, honey, your entire career is based on showing off your soft, curvy body, but somehow you and your editors think that breasts without nipples or areolae are more interesting than just wearing a skimpy bra. Barbie you ain't.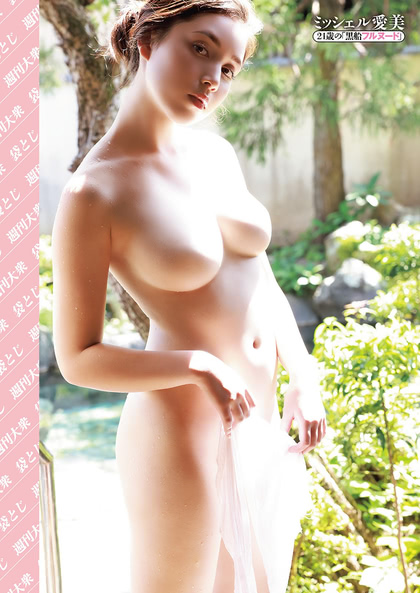 (via NSFW! Disable Javascript!)
It has come to this:
Black DJ accused of blackface, by a black "Inclusion Equity Diversity" committee member.
I've altered the usual word-salad order, because I think everyone should refer to these people as IEDs. They are hair-trigger explosives on the roadside of life.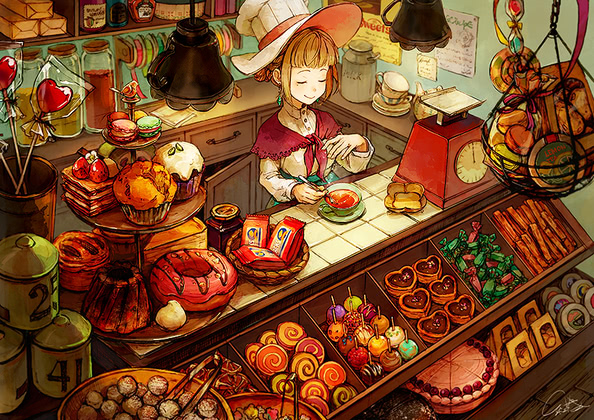 (picture is related… to first picture)
Planes, Trains, and Maskmobiles
A federal judge has stomped on the Brandon regime's never-ending travel-mask orders. Until the next attempt, at least.
Given the widespread celebrations, however, they're gonna have a harder time making the next one stick.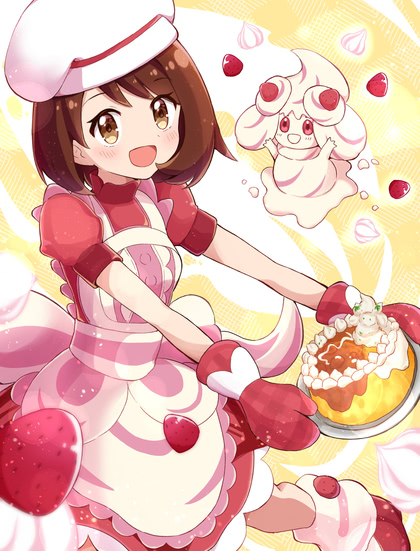 Safe!
Thanks to the folks at Andersen's Lock & Safe, my gun safe has now been emptied and sold, and the lock is in better shape than when it was new.
Basically, while sitting idle for two years due to Covid, things got "stuck" inside, enough that the combination shifted by several numbers for each tumbler. The first guy who came out from the locksmith tried shifting one at a time, but eventually gave up and called in the guy who was capable of drilling it out. That guy was patient and skilled enough to unlock it without drilling, which saved me several hundred dollars, and he did a full clean and lube to restore the original combination and make everything turn smoothly.
The buyer had to wait until the rain stopped Saturday morning, but he borrowed a pallet jack from the shop next door to his motorcycle store, brought a truck and some strong backs, and took it away. I donated some empty cardboard boxes to the cause so that it would slide into the bed of the truck easily. (and since it was the same truck that we'd loaded the motorcycle onto, we knew it could handle the weight)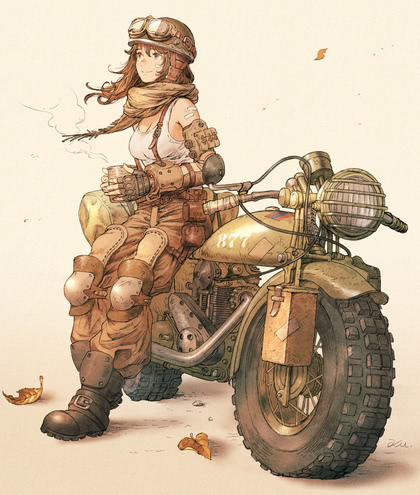 Junk!
Junk King did a fast, friendly, and thorough job of cleaning out everything I'd staged in the garage. The only thing they wouldn't take was a pressure-treated 4x4, because the place they use won't take anything chemically treated (or oil, paint, etc).
I've got them coming back on Thursday for a second pass, now that there's room for me to fill up the garage again. I'm getting progressively more ruthless as I go; a lot of stuff that was "yes, but" last week is now "terminate with extreme prejudice".
More things uncovered during the pack&purge:
Two 200-disc CD changers, empty; to my surprise, they actually work, but they use the obsolete S-Link remote-control protocol, and I already junked my Slink-E.
Two CDROMs labeled "Solaris 2.5 source".
A 3U rack-mount server. I cracked it open and ripped out the disks, then put it in the next junk pile as e-waste.
A 1U rack-mount server. Ditto.
Two boxes of useful things from my previous job: the toys I kept on display in my cubicle, including all the Funko figurines.
A copy of the first edition of Programming Perl, autographed.
A really heavy, really sturdy Pelican case for camera gear. Well, now I'm sure it will all survive the trip…
Wait, another copy of Windows Me? I'm quite certain I never installed it anywhere; am I being punked?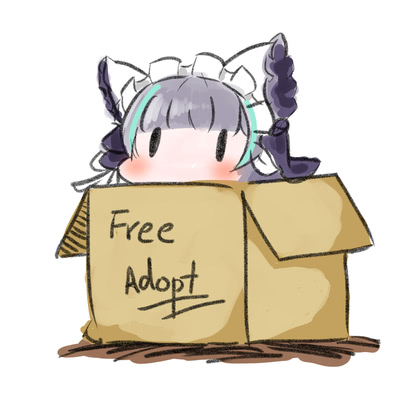 Almost America!
This past week has been a nice reminder that not everyone in California is a bat-shit crazy wannabe-communist. I had sane, sensible conversations with the motorcycle dealer, the junk guys, and both locksmiths; it's like there's some sort of… "class" difference between the fuckers and the fuckees.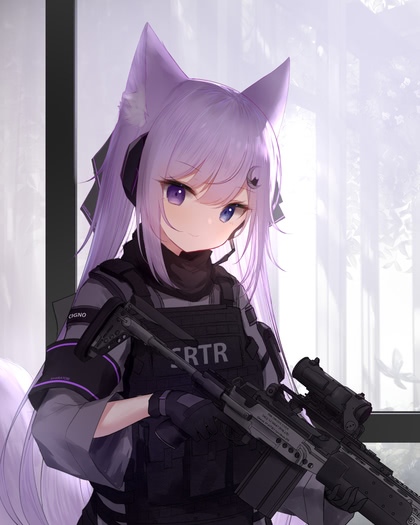 Love After World Domination, episodes 1 & 2
The first episode was kind of cute, although I kept getting distracted by the weird coloring on the super-suits. I couldn't finish the second one; I think I made it as far as the gym portion of their date.
Our Hero is a dull lump of muscle surrounded by pretty girls, with the social skills of a basement-dwelling Internet stalker. It's easy to see why any man with a pulse would be interested in Desumi, given that she's basically a young Olivia Newton John in fetish gear (think "Sandy from Grease, but with lingerie and a whip, and better hair"), but they haven't supplied a reason for her to be interested in him.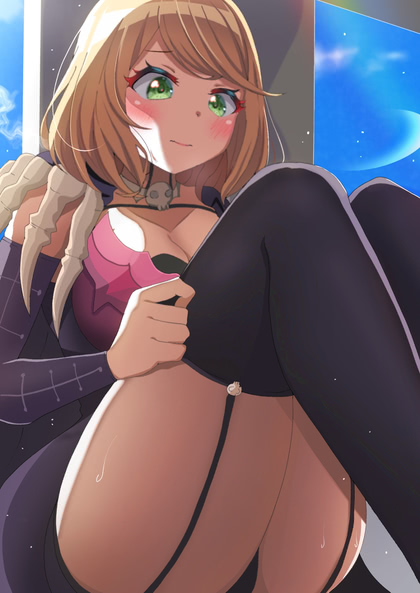 Werewolf, Vampire, Demon, Mermaid, Egg
---
Journal of the Mysterious Creatures
Idly skimming through Amazon Prime video, this collaboration between a Japanese game company (MAGES) and a Chinese streaming site (bilibili), with character designs by an unknown company called Children's Playground Creative and production by Children's Playground Media, features a number of recognizable voice actors (ex: 1, 2, 3, 4, 5) in supporting roles, while the nice-but-dimwitted male lead is someone who is inexplicably missing from the credits of the only other two anime series he ever worked on.
The girls are cute and the werewolf possesses Gainaxing powers, at least until the budget ran out; her transformation also features the white-hair/dark-skin combo that some find appealing (although like most of the art, how dark her skin is varies from scene to scene).
Other than that, it's shouty and derivative and based on a Chinese web novel that just threw a bunch of tropes in a blender, the animation is low-budget with plenty of shortcuts and frequently-off-model character art, the end-of-episode chibi chats are done by the Chinese voice actors with Japanese subtitles, and the low-quality English subs are randomly out of sync and injected with lines from the Spanish sub. So, quality all around.
If you're really bored some night and you have Prime, it's… oddly watchable, in a likely-accidental retro-cartoon Scooby Gang sort of way. Note that fan-service is basically limited to the occasional cleavage closeup, and it's a purely platonic harem.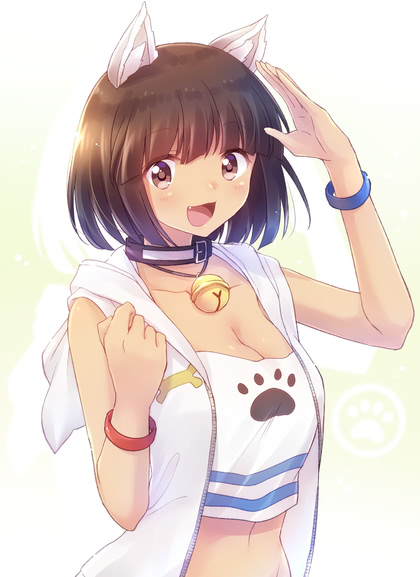 Eromanga-ova
Somehow I missed the fact that there were two OVAs released in 2019 for Eromanga-sensei. I haven't found subs for them anywhere, just raws, so I've just skimmed them a bit. The first one opens with Elf getting naked, so, y'know, same-old-same-old. This one is all about Our Manic Elf Dream Girl, including an Elf-themed ED set to the usual song. Cute touch: in the opening credits, her letter to her mom is addressed "Dear MyMother, 40 Example Street, London, England".
The second one tests Sagiri's boundaries as Her Beloved Brother catches a bad cold and she has to leave her room and take care of the cooking and cleaning. Also reenacting the ED animation and keeping the other haremettes from getting in to see him.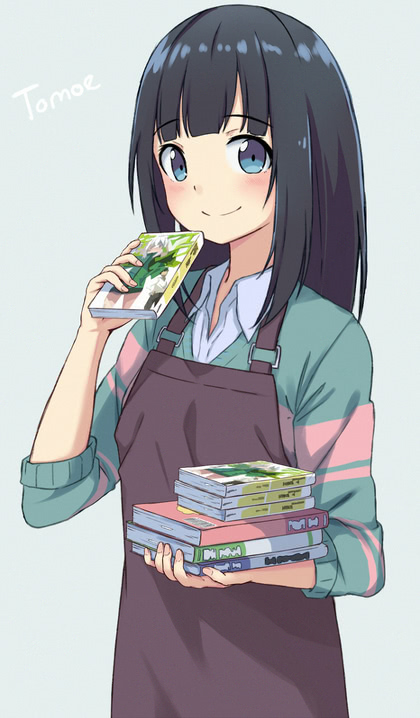 (bookstore-chan is still my favorite)
Shield Hero 2, episode 2
Another OP song I would be happy to never hear again. As for the contents, remember all the introductions and exposition we skipped last episode? Yeah, they put them here, mixed with a bunch of prep for an upcoming multi-national battle against a giant catastrophe turtle. I was amused to see Raphtalia snap to attention when Our Mysterious Royal Concubine offered Our Noob Girl advice on winning her man.
(…advice which boiled down to "put out early and often"…)
RPG Real Estate, episode 2
In which the first thing we see is that Our Newbie Real Estate Wizard has huge tracts of land. And don't worry that she gets dressed right away; when the girls have a sleepover, the others will get a good look at how her square footage compares to theirs. As for the story, first their even-more-acreage boss tasks them with finding renters for some "challenging" rooms, which takes Our Half-Dragon about thirty seconds to solve. Then a little old lady serves up a softball that Our Boobie-Newbie hits out of the park thanks to a eureka moment in the bubble-bath. Also, Our Ambitious Priestess openly claims Our Scantily-Clad Warrior Maiden as her personal property.
…just in case anyone wondered if there were going to be serious challenges to be overcome rather than cute real estate agents doing cute home sales and yuri teasing.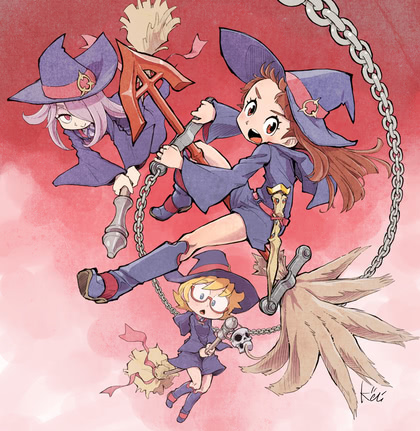 (picture is unrelated)
Skeleton Knight, episode 2
(yes, I skipped the wretched OP)
It strains credulity that Our Bony Hero thinks he can somehow keep a low profile as he strolls across the countryside in massive shiny armor. It's already getting a little old, so hopefully he gives up on it as soon as he joins up with the elf girl. In this episode, he acquires a fluffy companion while defending the right of little girls to pick herbs in the forest.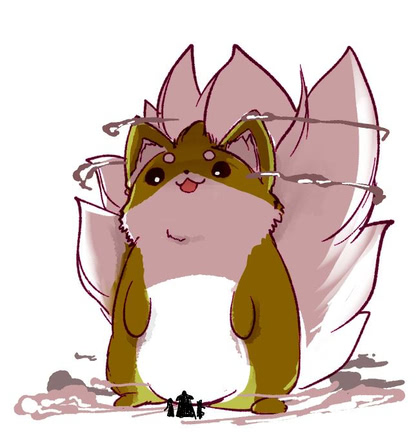 (the stuff on Pixiv that's not from the official manga and light novel artists (official sample) is still mostly gang-rape of the entire female cast)
Demon Girl Next Door 2, episode 2
In which Our Story is interesting and funny. So, still getting what I'm looking for here.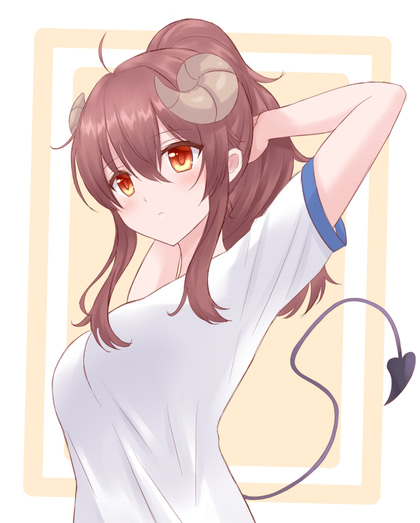 In other news,
Elon Musk hasbends Twitter over a barrel.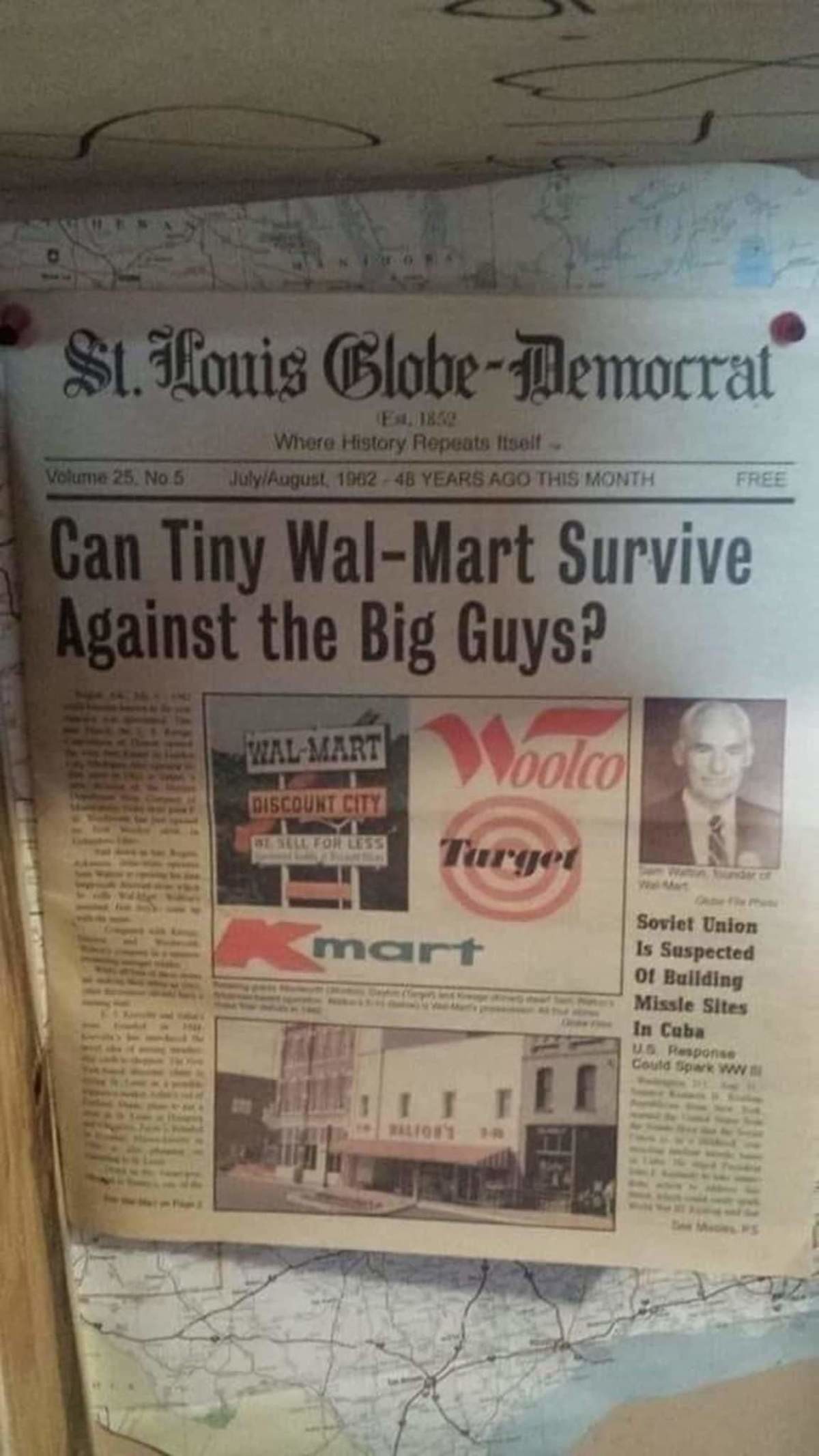 Very safe safe
When I sold my motorcycle today and told the dealer who came to check it out that I was moving, he asked if I was selling anything else, and I mentioned the gun safe. He was interested, and we agreed they could come over and pick it up on Saturday.
Which means I need to empty it. And I can't get the damn thing open. I know the combination and the correct number of magic turns, but it's not working. After half an hour of this, I looked for local locksmiths, found one that was open after 5pm, and called to have someone come out. Half an hour later they called back to say they didn't have anyone in my area.
Because they're not a locksmith, they're an online dispatch service with a bunch of fake "local" web sites. Their business address, which is about a mile from my house, is actually an Olive Garden restaurant.
So if I can't get the silly thing opened tonight, I'll have to call an actual locksmith in the morning. I blame Covid, since I haven't been able to get to the range for two years…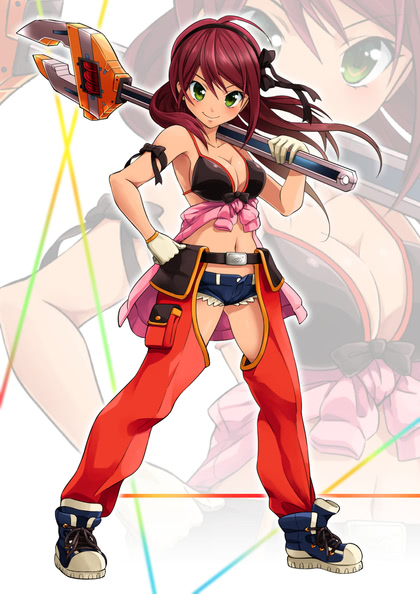 (locksmith, wrench-wench, same difference)
Oh, by the way…
…the online "zero-pain" motorcycle sales brokers? Fucking useless. The first one kept me hanging for two days before saying "oh, 2005 is too old for us" (must be Hollywood Democrats), despite this being the very first field on their online form. The second immediately made an offer (low, but promising a quick wire transfer), then withdrew it in a phone call a day later, after having me upload full scans of my title, registration, driver's license, etc. If I hadn't checked them out to be sure they were legit, I'd be off buying identity-theft insurance right now…
The local dealer offered 50% more than the second online broker and wrote a check fifteen minutes after showing up to check out the bike.