After carefully determining that your pizza recipe is compatible with your new diet if you only eat half of it split across two meals, it's important to put the other half away as soon as possible. Out of sight. Uncut. In someone else's fridge.
I'm not worried about gaining weight while we're in Japan, because last time it was just my sister and me, we averaged about 18 miles of walking per day, and Japan is not flat. A lot of my diet/workout plan right now is focused on my knees so I'm up to the challenge.
Sadly, my lasagna recipe isn't compatible with any diet. Especially if I'm alone in the house with it. 😁
…not that I was buying canned food back when this was their current design…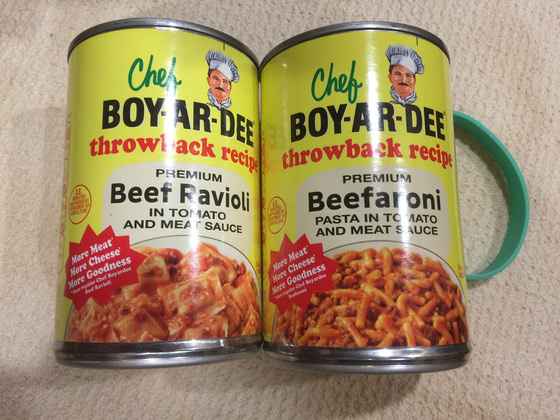 …Japanese Sloppy Joes. And not in a bad way.
I is confused: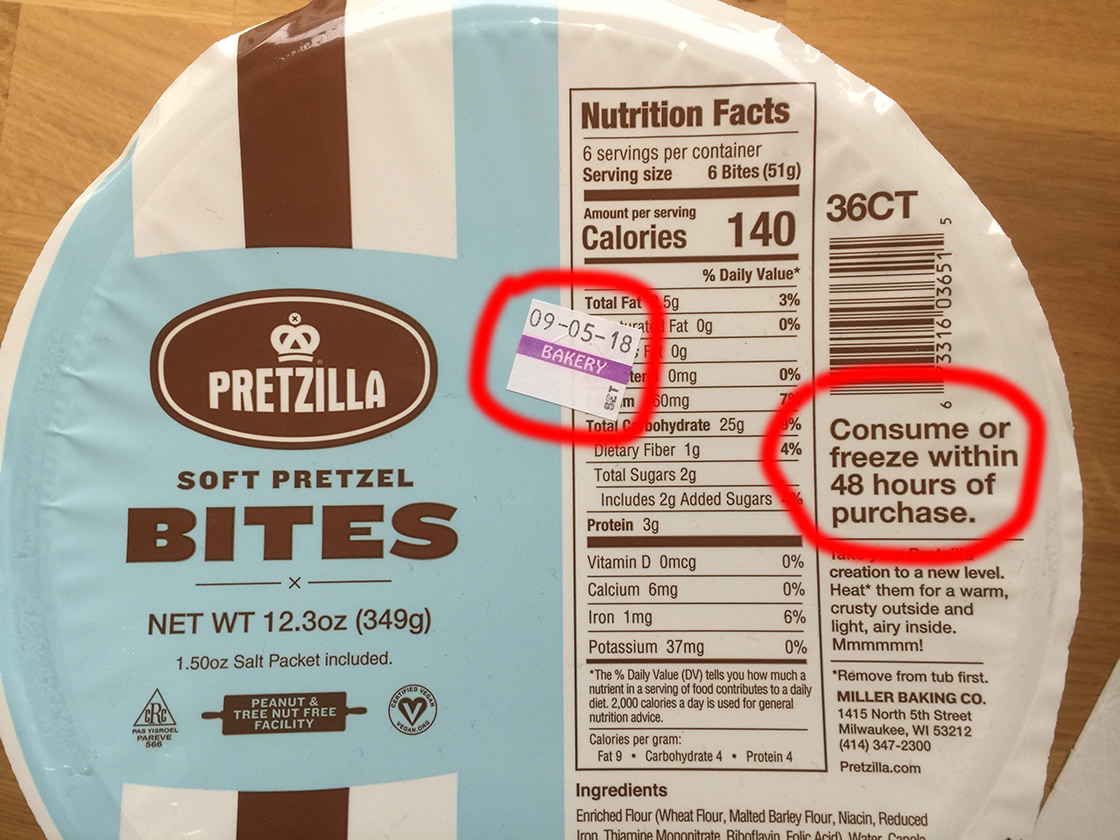 So which is it, 48 hours or five weeks? Are these pretzel bites ticking like a time bomb? Or is Pretzilla just encouraging the buyer to pig out?
[side note: Safeway has also started carrying Cheesecake Factory brown bread. For some reason, they stock both of these items near the in-store Starbucks at all the locations I've been in recently.]
[work-in-progress]
Whenever I'm visiting family in Dayton, I will hoover up at least one Cassano's or Marion's pizza. Donatos and Ron's are other chains that make Dayton-style, but it's pretty much unknown outside the region, and often confused with St. Louis style.
The primary characteristics are a very thin crust (yeast dough, not cracker!), sauce and toppings all the way to the edge, salt and either cornmeal or semolina flour dusted on the bottom of the crust, and cut into small squares. Basically, if it takes more than two bites to eat a piece, you cut it too big. The difference between Cassano's and its descendants is mostly based on when their founders stopped working for Vic and opened their own stores, although it seems Cassano's has increased the amount of salt they use on the crust over the years, to the point that some people find it excessive (not me!).
In theory, you can get frozen Cassano's shipped to you, but it's not a real business for them, so they charge a ridiculous amount to get it to California. It would actually be cheaper to have a case of six shipped to my parents and then re-shipped by UPS.
So I've been working on making my own.
A couple of days ago I stumbled across the German name for the Chinese dough-enhancing technique called Tangzhong: Mehlkochstück. That was amusing, especially since there were two other related German techniques that involved different ratios and temperatures (quellstück and brühstück), none of which had been translated into English.
Today, I stumbled across an article by the author of the BraveTart cookbook, insisting that the Japanese name for the technique was yukone. This came as a bit of a surprise to me, since it doesn't match the kanji used by any of the Japanese bread companies I found recipes from (at least one of which punned on the name with "Ii yu da ne!").
Bonus: yudane bread-machine mix.
Her source initially seemed persuasive, however: a Japanese research paper involving using an MRI to examine bread structure with and without the "water roux" paste.
Unfortunately, the paper is in English, and does not include the kanji for "yukone". My guess is 湯粉練 ("hot water" + "flour" + "to thicken into a paste"), but plugging that into Google returns absolutely nothing in Japanese, and just 湯粉 returns soups. The hiragana ゆこね doesn't work, either.
So now I'm wondering if the paper's phrasing "a process known as yukone in Japanese" just means "jargon invented by our research team". This is supported by the article's citations, which include a much more recent paper with the translated title: "Effect of Heated Gluten on Bread-making Qualities of Yudane Dough".
Also, unlike the typical 5:1 water/flour ratio in tangzhong or 2:1 in yudane, they used a 1:1 ratio, which really is papier-mâché paste.
Update
It's yugone, 湯捏ね = "hot water" + "kneading". Still no references on Amazon Japan, but the handful of recipes I found with those kanji used the same 1:1 ratio as the research paper. Some of them used "yugone" for the technique and "yudane" for the resulting starter.
Anyway…
If you're in a Japanese bakery, look for 湯種食パン (yudane shokupan):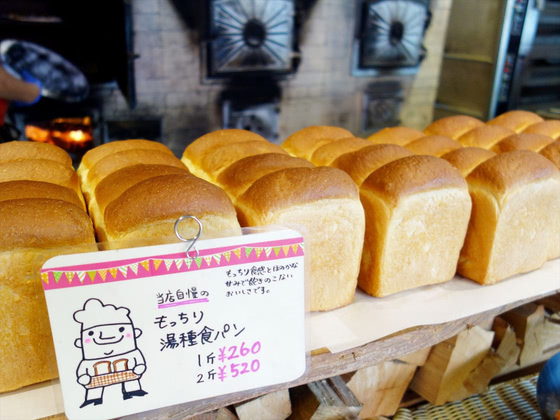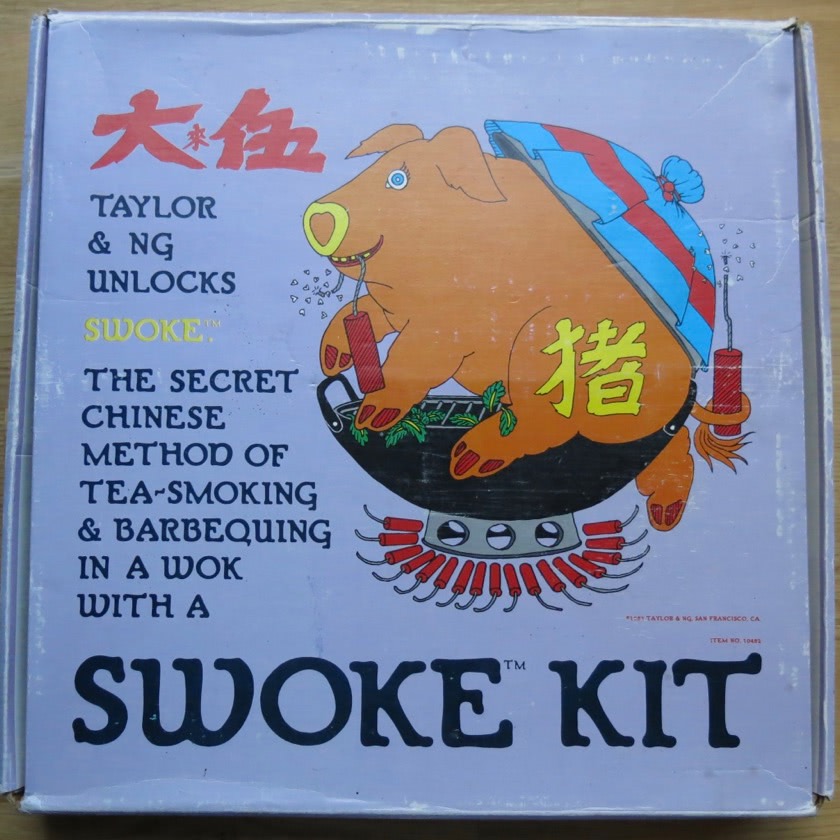 My parents are on a stuff-eliminating binge as part of their move into a new place, resulting in a number of rather surprising packages arriving at my house. Clearly I come by my packrat ways honestly.
This never-used gem turns a 14-inch wok into a tea smoker. The company still exists and still sells woks, but Google suggests that I may be the only one in the world with an honest-to-gosh Swoke Kit.
I'm pretty sure the included wood chips and tea leaves have lost their flavor since 1983, though. 😜
As part of the ongoing upgrades at home, I just replaced all my baking pans with the ones King Arthur Flour sells, and picked up a bunch of their nice parchment sheets as well. While I was at it, I saw that they had a recipe bundle for their version of the tangzhong 'Hokkaido' milk bread rolls.
Everything arrived yesterday, and I made a batch this morning, following their recipe, weighing the flour instead of using volume measurements for it. I used the bread machine to make the dough, then baked them in the supplied pan.
Was it good? Half the rolls didn't survive long enough to cool down; I made little roast beef sandwiches out of two, and just ate the other two while catching up on email. Lunch just now was another little sandwich, since I stopped at the Morgan Hill Safeway on the way to the office (the closest one that has a Boar's Head deli).
If I were having friends over, I'd have to make a double batch (at least!), which means pulling out the stand mixer.
Only negative? The recipe bundle promised a nice printed copy of the recipe. What arrived was a piece of cheap printer paper stapled to the receipt, printed in a small, thin font. Printing a copy yourself produces something far more useful for actually baking (in addition to giving you the option to use weight rather than volume).