A couple of days ago I stumbled across the German name for the Chinese dough-enhancing technique called Tangzhong: Mehlkochstück. That was amusing, especially since there were two other related German techniques that involved different ratios and temperatures (quellstück and brühstück), none of which had been translated into English.
Today, I stumbled across an article by the author of the BraveTart cookbook, insisting that the Japanese name for the technique was yukone. This came as a bit of a surprise to me, since it doesn't match the kanji used by any of the Japanese bread companies I found recipes from (at least one of which punned on the name with "Ii yu da ne!").
Bonus: yudane bread-machine mix.
Her source initially seemed persuasive, however: a Japanese research paper involving using an MRI to examine bread structure with and without the "water roux" paste.
Unfortunately, the paper is in English, and does not include the kanji for "yukone". My guess is 湯粉練 ("hot water" + "flour" + "to thicken into a paste"), but plugging that into Google returns absolutely nothing in Japanese, and just 湯粉 returns soups. The hiragana ゆこね doesn't work, either.
So now I'm wondering if the paper's phrasing "a process known as yukone in Japanese" just means "jargon invented by our research team". This is supported by the article's citations, which include a much more recent paper with the translated title: "Effect of Heated Gluten on Bread-making Qualities of Yudane Dough".
Also, unlike the typical 5:1 water/flour ratio in tangzhong and yudane, they used a 1:1 ratio, which really is papier-mâché paste.
Update
It's yugone, 湯捏ね = "hot water" + "kneading". Still no references on Amazon Japan, but the handful of recipes I found with those kanji used the same 1:1 ratio as the research paper. Some of them used "yugone" for the technique and "yudane" for the resulting starter.
Anyway…
If you're in a Japanese bakery, look for 湯種食パン (yudane shokupan):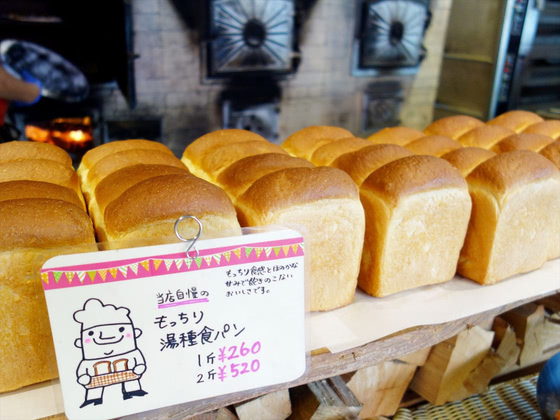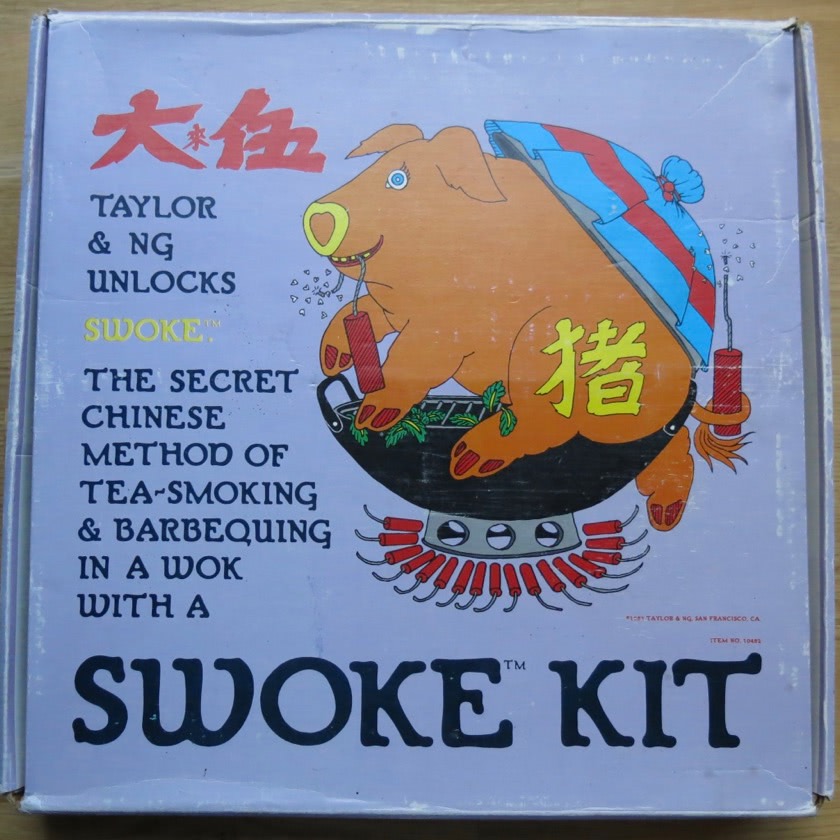 My parents are on a stuff-eliminating binge as part of their move into a new place, resulting in a number of rather surprising packages arriving at my house. Clearly I come by my packrat ways honestly.
This never-used gem turns a 14-inch wok into a tea smoker. The company still exists and still sells woks, but Google suggests that I may be the only one in the world with an honest-to-gosh Swoke Kit.
I'm pretty sure the included wood chips and tea leaves have lost their flavor since 1983, though. 😜
As part of the ongoing upgrades at home, I just replaced all my baking pans with the ones King Arthur Flour sells, and picked up a bunch of their nice parchment sheets as well. While I was at it, I saw that they had a recipe bundle for their version of the tangzhong 'Hokkaido' milk bread rolls.
Everything arrived yesterday, and I made a batch this morning, following their recipe, weighing the flour instead of using volume measurements for it. I used the bread machine to make the dough, then baked them in the supplied pan.
Was it good? Half the rolls didn't survive long enough to cool down; I made little roast beef sandwiches out of two, and just ate the other two while catching up on email. Lunch just now was another little sandwich, since I stopped at the Morgan Hill Safeway on the way to the office (the closest one that has a Boar's Head deli).
If I were having friends over, I'd have to make a double batch (at least!), which means pulling out the stand mixer.
Only negative? The recipe bundle promised a nice printed copy of the recipe. What arrived was a piece of cheap printer paper stapled to the receipt, printed in a small, thin font. Printing a copy yourself produces something far more useful for actually baking (in addition to giving you the option to use weight rather than volume).
When discussing the Japanese dough-making method popularized by Taiwanese cookbook author Yvonne Chen, please do not write things like "In Japanese, tangzhong means either a warm or thin starchy (flour-based) starter".
No, it doesn't. In Japanese, "tangzhong" doesn't mean anything at all, because the word 湯種 is pronounced "yudane" (and literally reads "hot water seed"). Anything you read or write about tangzhong is based on a Chinese cookbook that adapted a Japanese technique. If you want to call something "Hokkaido Milk Bread", don't describe it using Chinese words.
To find specifically-Japanese breads and recipes, search for "湯だね食パン" or "湯種食パン".
Update
So it looks like it all traces back to blogger and cookbook author Christine Ho, who introduced tangzhong to English-speaking audiences early in 2010, and has published a number of additional recipes, including the one that everyone copied, Hokkaido Milk Toast.
The Chinese name for Chen's recipe, 北海道牛奶麵包, is indeed "Hokkaido Milk Bread". It looks like Ho eventually settled on "water roux" as the translation for 湯種, but she's quite clear that this is a popular Chinese method based on an apparently-patented technique developed in Japan.
Amusingly, the commercial bakery who owns the patent is headquartered in Nagoya, and doesn't have a big presence in Hokkaido. In other words, it's possible that neither tangzhong nor yudane is how Hokkaido-style bread is actually made in Hokkaido…
Updated Update (5/19)
I haven't found a Japanese reference that predates Chen's book, so unless I stumble across the patent, I'm going to assume that she coined the name 湯種.
After reviewing a number of recipes, I'm convinced that the commercial Japanese method was quite different, and Chen deserves the credit for making it faster and more convenient. Japanese recipes for yudane bread may use either, but tangzhong bread almost always uses Chen's method.
For instance, this Japanese recipe from a flour company has you mix 100 grams of bread flour with 73 grams of 90°C water, wrap it tightly, and let it rest for 10 hours in the fridge.
This recipe makes the starter a bit differently, having you mix 50 grams of flour, 5 grams of sugar, 5 grams of salt, and 100 grams of boiling water, wrap it tightly, and let it rest in the fridge for 12 hours.
Compare to Yippee's recipe based on Chen's book (which predates Ho's version, but doesn't seem to have been the (coughcough) starter for the trend in English-speaking baking), which uses a 5:1 ratio of water to flour, and cooks it to 65°C, either on the stovetop or in the microwave (about 90 seconds either way). Where most recipes subtract the tangzhong amounts from the total used for the bread, this one makes enough for two loaves, with instructions on saving the rest for later. Her primary change to Chen's recipe is adding a sponge.
Now for some fun! Here's a Japanese translation of an english-speaking Egyptian's version of King Arthur Flour's adaptation of Chen's method, applied to Japanese-style dinner rolls.
I haven't tried the overnight yudane method, but this morning I made the King Arthur classic sandwich bread using the 6:1 (when converted from volume to weight) tangzhong option in the notes, which cooks it on the stovetop. It's almost all gone now, so you could call it a success.
(the recipe worked perfectly in my Zojirushi Virtuoso bread machine, by the way, which I bought recently when my old Oster got a little flaky. Since by default it has a 30-minute rest period at the start, I didn't even bother to cool the tangzhong to room temperature; I just put it in the bottom of the pan with the other liquid ingredients, poured the dry stuff on top, and made a well for the yeast, as usual)
I had odd flashbacks to my childhood, though, because the last time I cooked flour and water into a paste on the stovetop, I was making papier-mâché.
Oh, and the folks at America's Test Kitchen included their take on Japanese Milk Bread in their book Bread Illustrated, using the same tangzhong ratio as King Arthur Flour. Theirs adds an egg for more richness.
…at Galpão Gaucho in Cupertino with my sister. They're new, so I'm willing to cut them some slack for not being as awesome as the one in Napa, but they need to up their game. And train all the servers to look at everyone's yes/no card, not just the first one they see at the table. About half of them passed me by because they saw that my sister wasn't ready for more meat yet, despite my card being clearly visible at the edge of the table.
We also hit the Daiso and Marukai in the same shopping center before dinner. Always a good time. (if you know the area, they took over the old Elephant Bar)
We, um, had to change the subject after a few quick passes on gun control and the Florida spokespuppets, but that was the only land-mine pot-hole in the conversational highway.
Dean & Deluca 'Pizza Italian Sauce'
---
If you think that the true essence of Italian pizza is "overwhelming raw garlic flavor", then this is the sauce for you. If you actually like pizza, though, avoid it like the vile crap it is. I didn't want to just throw it away, so I cut it half-and-half with Ragu jarred pizza sauce, and it was still way too garlicky.
Had dinner at Galpão Gaucho Brazilian steakhouse recently. Next time I'll bring a second stomach along so I can eat more.
Update
Now that we're back from the weeklong tour of Napa and Livermore (mostly Napa), I've changed the above link to point to the actual location we ate at, not the one close to my office.
Converts to the Church of J's Lasagna
---
Dinner with the family tonight. My variation of James A. Thorson's lasagna was a big, big hit; somehow I'd never shared it with them in any of their visits to my place in the nearly 30 years I've been making it. It didn't hurt that my sister had a stash of amazingly good parmesan cheese.
Surprisingly, the giant box that arrived labeled Cassano's Pizza was in fact filled with dry ice and Dayton-style pizza. Not tomorrow's dinner, but soon we shall feast.