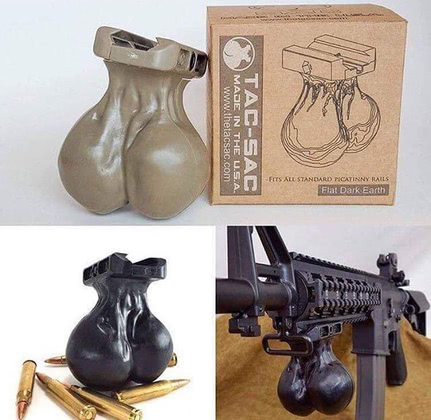 (via)
(via, and he's got lots more!)
Ask your friend about trigger discipline.
When she gets out of the hospital, her new nickname will be "Lefty".
When it really is "killing for sport"
---
Mr. Lion is rightfully angry with the Minnesota dentist whose African trophy hunt recently blew up in his face.
It's possible he's not a willing criminal, if he really did get all his permits and relied on his well-paid "professionals" to keep him legal. It's definite that he's not, as his statement claims, a responsible hunter. Jacklighting for leopards with a crossbow and shooting at a lion that takes the bait is not the act of a "responsible hunter", especially when it leaves one of Ma Nature's best killers pissed-off and on the loose for 40 hours.
Setting aside the issue of whether luring an animal to your position and blasting it with spotlights counts as "hunting", if you're using a single-shot weapon, you have a responsibility to get a clean kill. Especially at night. Especially large carnivores. If you can't guarantee that, don't take the shot.
Not that it matters now, since Cecil is dead, the mob has destroyed Our Villain's business, and his money is going to be spent on lawyers instead of trophies for quite a while.
I've never really understood the trophy-hunter mentality. I've read Capstick and Cooper, I've known plenty of folks who hunt for meat, and I've considered a guided boar hunt to do my part in California Pest Control and fill the freezer with sausage, but trophies? What are you really celebrating, if the animal didn't have a decent chance of taking you home?
The usual claim is that if someone (particularly a woman) tries to use a gun in self-defense, it will just be taken away and used against them by the bad guy.
Well, this well-equipped serial killer is now in the morgue because his latest victim fought back, hitting him with a rake (? details have changed in a few stories) until he dropped his gun, and then shooting him with it. She didn't need months of professional training and a government-issued license, "I just grabbed the gun and shot behind me."
The wild cheering you hear might be coming from my house.
Not even a solution in search of a problem…
---
The latest in Kickstarter fantasies is GunDetect, a home-monitoring gadget that promises to use computer vision to detect the presence of armed intruders.
$20 says they never ship a working product. $100 says that if they do, they'll refuse liability for any customer who actually has an undetected "incident".
No activist has ever been persuaded by reason; as always, the argument is for the sake of the audience.