Rewatch: Restaurant To Another World
---
Relaxing food-porn for the win!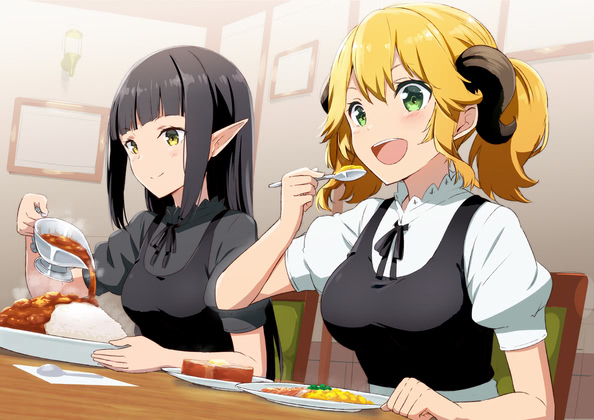 I've been reading the light novels for this one as well, and Aletta's increased confidence has had results. She's been handling deliveries from the restaurant's Earth-side suppliers, and one of the delivery boys has become quite smitten. In a triumph of otaku acculturation, he thinks her horns are just cosplay ornaments. No big deal for a modern Tokyo youth.
An interesting note is that the occasional mild fan-service that was added for the anime was not further enhanced for the Bluray release.
Related, Amazon may still be determined to kill Brickmuppet under a pile of packages, but they're no longer delaying Prime shipments for weeks at a time. Every in-stock item I've ordered recently has shipped out promptly. The categories that seem to be most sold out now are things like home exercise gear, for people who live in Bluetopian states under lockdown. The fact that most of that stuff was being made in China doesn't help.
Also related, when I went in to my local drug store to pick up prescriptions yesterday, they had a huge display by the checkouts selling individually-packaged disposable surgical masks for $1.29 each. Also candy bars.
---
Comments via Isso
Markdown formatting and simple HTML accepted.
Sometimes you have to double-click to enter text in the form (interaction between Isso and Bootstrap?). Tab is more reliable.
---