Dice, Bookworm, Azur, Average, Prodigy
---
[catching up after finishing off the main story in Cat Quest and surviving the run to Zora's Domain in BotW…]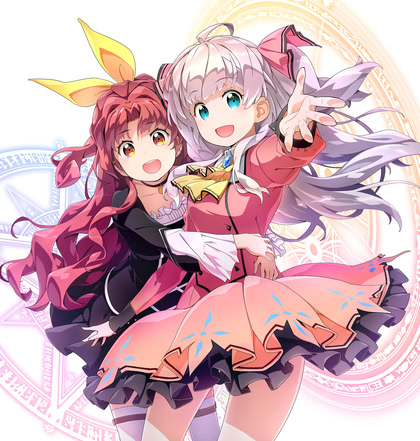 (cover of the next Average book)
After School Dice Club: Ep 2, Enter The Crush, with game Cockroach Poker. Really didn't need a boy in my gamer-girls-doing-gaming-things show. Ep 3: Incan Gold subtracts the boy, adds two older girls, and actually has a plot twist.
Ascendance Of A Bookworm 2 & 3: after the first one, I ended up reading the first two light novels, and it's tracking pretty closely. This seems to be a rare case where they realize they have good source material and are actively trying to use it well. No complaints.
Azur Lane: dropped; due in large part to the giant (tee-hee) cast, the story is incomprehensible, and the fan-service is being done better by fans on Pixiv.
Didn't I Say To Make My Abilities Average In The Next Life? Ep 1: "Ain't no 'Adele' here!" I presume Mile's first 2.x years in her new world will be told in convenient flashbacks. This is another case where I took a look at the light novels, and the anime team has jumped over several chapters and made some significant changes to what they're using. It looks like the manga started in the same place as the novels, so this one has a whiff of trainwreck about it. Also, the novels quickly turn into girl-power-power-fantasy, with Mile not only being able to do anything while pretending to be "normal", but also power-level her friends with a few quick tips. It gets old fast, even with her finally starting to figure out that she was sold a bill of goods by her reincarnation advisor.
High School Prodigies Have It Easy Even In Another World : Ep 2, Enter The Loli Catgirl. Our Business-Hero proves his worth to the village skeptic, and acquires his future waifu. Side note: Business Hero's voice sounded familiar, and while his DanMachi character Takemikazuchi doesn't get a lot of lines in the anime, I hear him a lot in the DanMemo game.
---
Comments via Isso
Markdown formatting and simple HTML accepted.
Sometimes you have to double-click to enter text in the form (interaction between Isso and Bootstrap?). Tab is more reliable.
---