For this latest trip to Japan, I'm taking my Sony A6500 body, 18-105mm f/4 lens, a small flash, a Litra Pro LED light, and an ancient Minolta 100-200mm f/4.5 with E-mount adapter. For accessories, I'm taking a Sirui 3T-35 tabletop tripod (sturdy and versatile, with an Arca/Swiss-style mini ballhead), and a small color checker card. I'll have my Ninja Reflector in the suitcase, in case we have a really scenic view out of one of our hotel rooms, but I don't expect to pack it along unless we go to an aquarium or museum where everything's under glass.
I spent some time a few months ago trying to figure out how exactly I was going to carry it all. I have (coughcough) "several" camera bags. The smallest of my Domke bags would be more than big enough for this modest loadout, but it has two flaws: it looks like a camera bag, and it's not a good fit for a trip that involves more shopping than serious photography.
What would be ideal is something like my old PacSafe anti-theft laptop backback, but with a proper camera insert to keep everything organized and protected. There are a lot of things like that out on the market, but they all end up looking like camera bags, and most of them are at best half-decent at other things.
Then I found the Tenba BYOB 10 (Bring Your Own Bag) insert: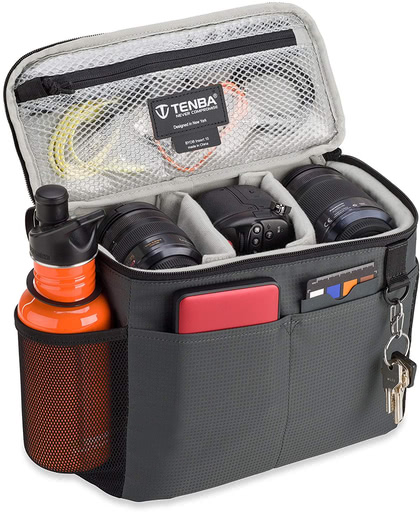 Careful measurement of my PacSafe backpack confirmed that it would snuggle inside, protecting my gear without adding significant weight, allowing me to carry a bag I already like. Win-win.
---
Comments via Isso
Markdown formatting and simple HTML accepted.
Sometimes you have to double-click to enter text in the form (interaction between Isso and Bootstrap?). Tab is more reliable.
---