When I went to replace my cheap-but-sturdy Okabashi sandals, I was under the impression that they were typical foreign-made discount crap that I just happened to have found two decent pairs of (8-10 years of heavy use, and only one strap out of the four has broken). The fact that I found them heavily marked down at the end of the summer season at a drug store contributed to this impression.
Um, no. The Japanese-derived name was chosen by founder Bahman Irvani when his family fled from Iran to Buford, Georgia in 1981, based on his interest in reflexology and Japanese design. They're a 100%-made-in-USA footwear company with decades of community involvement and military support.
And they'll give you a discount if you send back your old ones for recycling.
Their site gives no hint as to which "oka" and "hashi" they used to form their name. It could be "hill bridge" 岡橋, which is a surname pronounced either Okahashi or Okabashi, but all the companies I found in Japan with those kanji use Okahashi. It could be "land + end" 陸端, a kanji compound that seems to be primarily used in China. It's unlikely to be "hill + top" 岡端, because that compound gets read as Okahata or Okahana instead of the valid "hashi" reading. Pretty sure it isn't "male-deer + chopsticks" 雄鹿箸. Highly unlikely to be related to okabasho, "unlicensed red-light district" 岡場所.
Given the reflexology connection, I'm guessing it came from a foot chart. Specialized jargon often gets excluded from dictionaries. Although "Land's End" has a nice ring to it…
"They all look alike" never goes over well
The bar employee who previously insisted that George Floyd had a history with the cop charged with killing him now claims that he mistook Floyd for another black employee. Oopsie.
"You can have the English language…"
"​…when you pry it from my cold, dead hands."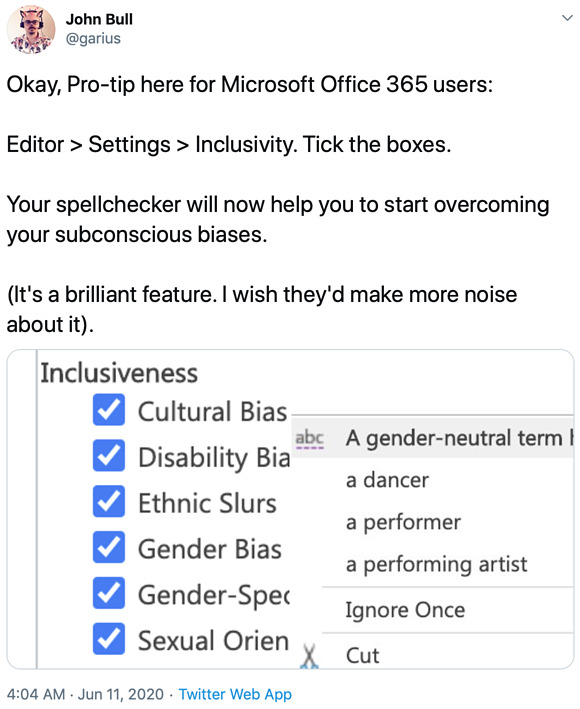 I need a style checker that replaces phrases like "subconscious bias" with "accuracy and precision".
My reflexive reaction
The Economist: Our model says Biden will beat Trump.
J: Really? What does your actress say?
---
Comments via Isso
Markdown formatting and simple HTML accepted.
Sometimes you have to double-click to enter text in the form (interaction between Isso and Bootstrap?). Tab is more reliable.
---