When installing a system update on one of your NAS products, having it fail with the following message is "less than encouraging":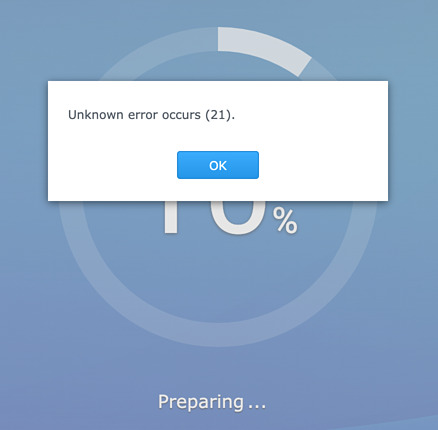 Re-downloading the DSM update (6.2.3-25426) and trying again didn't help.
On the bright side, it's still up and running.
Somehow I missed an episode of Good Eats: Reloaded, so I got to watch two back-to-back yesterday: pot roast and oatmeal. I never tried the much-reviled pot roast recipe from the original episode, and Alton would be horrified to discover that I actually like single-serving instant oatmeal.
What stuck out for me was that the reloaded oatmeal recipes (1, 2) are tarted up with those trendiest of grains, quinoa and chia. The reloaded granola recipe just sounds unpleasant. The new pot roast looks decent, but I'm not going to run out and try it when it's hot out.
Perhaps when the rainy season starts again in the fall. (although I'm actually still getting some light rain occasionally, mostly at night)
I went to check on the status of Corona-chan restrictions in Monterey County, only to discover that none of the authoritative DNS servers for www.co.monterey.ca.us are responding, and the records have timed out everywhere. Sounds like a virus to me!
Stage 2.2 update
Yesterday, the county agreed to beg the governor for permission to enter phase 2 of stage 2. The state has "acknowledged receipt of the Form".
Should they approve it, dine-in restaurants, full-service car washes, shopping malls, and pet grooming will once again be legal. Not sure about haircuts, since there's industry-specific advice that suggests yes, but they fall into a category that's still listed as "phase 3".
On the bright side, residential cleaning services will be permitted to reopen, which means I can have my already-pretty-damn-clean house thoroughly scrubbed.
Hopefully my dentist had the financial resources to ride this out and can reopen. Soon.
By golly, haircuts are in stage 2.2 now
…assuming salons and barbershops meet the detailed requirements to reopen, some of which assume the owner/operator has plenty of extra money to upgrade the facilities and purchase a large stock of disposable everythings. And that they can get stylists to come back to work despite making more on unemployment thanks to the extra-goodies laws.
(in many cases, stylists are basically independent operators who rent their stations, making them ineligible for unemployment benefits, but California mostly outlawed freelancers this year, so I'm not actually sure what their status is any more)
---
Comments via Isso
Markdown formatting and simple HTML accepted.
Sometimes you have to double-click to enter text in the form (interaction between Isso and Bootstrap?). Tab is more reliable.
---