Forgotten SF Novels: Mayflies
---
Kevin O'Donnell, Jr was a prolific SF writer in the Seventies and Eighties, mostly in short-story form, but he also left behind 10 full-length novels, perhaps the best-remembered being the four-volume Journeys of McGill Feighan, which were successful enough that Berkley reprinted his earlier novel Mayflies with an "interesting" new cover: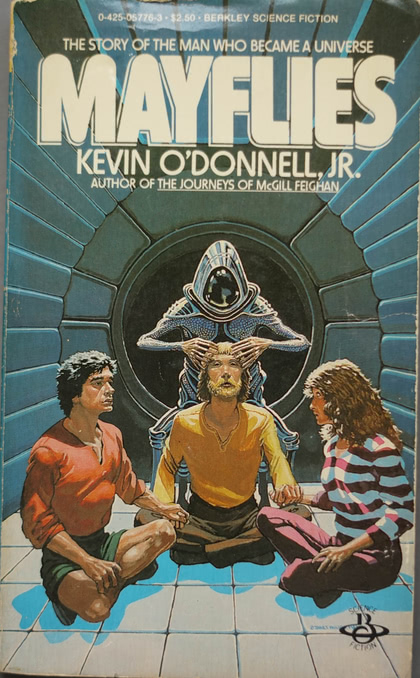 Our Hero was a scientist working on a last-ditch life-support system to keep even the most critically injured alive until they could be treated. In a fit of irony, he ends up being the first test subject when he's decapitated by a rogue light fixture during a severe earthquake.
Unfortunately for Our Hero, he doesn't recover, and his living-but-idle brain eventually gets donated to a group working on biological computers, as in "reprogramming a human brain into a supercomputer". They do such a good job of it that the brain-puter is put in charge of a slower-than-light starship sent to found a colony out among the stars, just in case humanity blows itself up at home.
Unfortunately for the passengers, his mind wasn't completely wiped, and when he wakes up, the conflict between programming and ego results in a tug-of-war that disables the ramscoop before they get up to full speed. The ship will eventually reach its destination, but it's going to take a long, long time. As their societies rise and fall, Our Hero struggles against his programmed self for control over the ship, while living vicariously through generations of short-lived passenger "mayflies".
As I mentioned over on Good Show Sir, the cover art that looks like a stoner party being crashed by a mind-melding alien is actually a sex scene in the book, in which the girl is expertly fingered to orgasm by one of the aliens. Actually, everyone aboard is being probed in some fashion, in an attempt to elicit violent or self-destructive reactions, but our PoV character at that moment apparently drew the short straw.
Note: none of his books are in print or available electronically, which is a shame, since they were all entertaining; I presume there are rights issues which his estate is either unwilling or unable to untangle.
---
Comments via Isso
Markdown formatting and simple HTML accepted.
Sometimes you have to double-click to enter text in the form (interaction between Isso and Bootstrap?). Tab is more reliable.
---