Forgotten SF Novels: Fane
---
Fane, by David M. Alexander, 1981: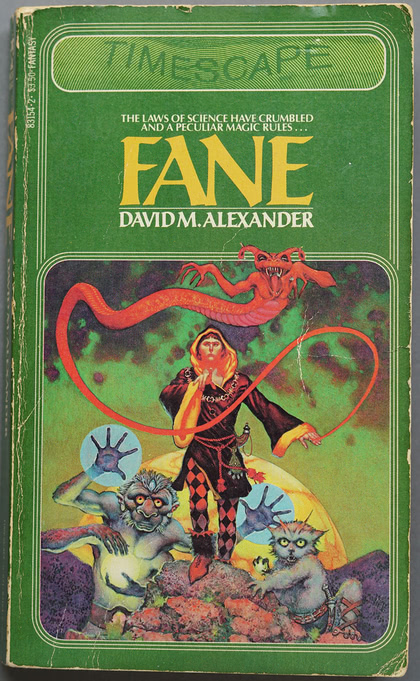 Beyond the stars, a fool's paradise lies waiting to be saved!

The planet Fane, inhabited by earthlings and native four-armed Fanists, is threatened when the wizard Greyhorn contrives a fiendish plot to conquer the world and enslave its inhabitants.

Greyhorn's scheme lacks one essential ingredient, so the great wizard sends his bumbling newphew, Grantin, to find it. But when Grantin unwittingly foils his uncle's plans, he is plummeted headlong into a strange adventure.

Evading bandits on lizards, pleading mercy from talking trees, battling poison-toothed demons, the unwilling Grantin journey through the Weird Lands into the domain of evil where the gorgeous Lady Mara is waiting to be saved…

But to save the Lady, the planet, and himself for the simplest pleasures of Fanist life, Grantin must rise to the occasion— and learn how to fight!
The cover picture is 100% accurate, except for the tights. The back-cover blurb, on the other hand, is batting about 0.300. Among its other problems, there's a third race with a significant role in the plot (lower right), uncle Greyhorn isn't the one trying to conquer the world (but he's willing to help for a piece of the action), Grantin is just sent into town to pick up the essential ingredient from a courier, Mara doesn't know that she needs saving until quite late in the book, and Grantin isn't so much interested in saving her as in getting her to undo the mistake he made that sent him fleeing from his uncle's wrath.
To my surprise, this one's still in print and available for Kindle, as The Accidental Magician, under the pen name David Grace. The cover art is a bit less accurate (depicting uncle Greyhorn contacting the actual villain through a crystal ball), while the blurb is a bit more, so it balances out.
Is it any good? Mostly for the world itself and Grantin's two alien allies, Chom and Castor. Grantin, Greyhorn, Mara, and the rest of the humans don't have much to offer.
---
Comments via Isso
Markdown formatting and simple HTML accepted.
Sometimes you have to double-click to enter text in the form (interaction between Isso and Bootstrap?). Tab is more reliable.
---