If you're going to keep locking my Apple ID, could you at least have the basic decency to notify me via the various email addresses that I have on file?
Now I waste another fifteen minutes logging in again on all of my devices multiple times.
Why did you just lock my Apple ID? Can't handle criticism, or just more of your usual incompetence at running a cloud service?
[Update: given that I had to re-enter my password 12 13 times across four devices after unlocking my account, incompetence is winning the popular vote]
This has been bugging me for years: the Weather app on iPhones doesn't completely update the display when the day changes.
Screenshots from around 9:45 AM Tuesday morning: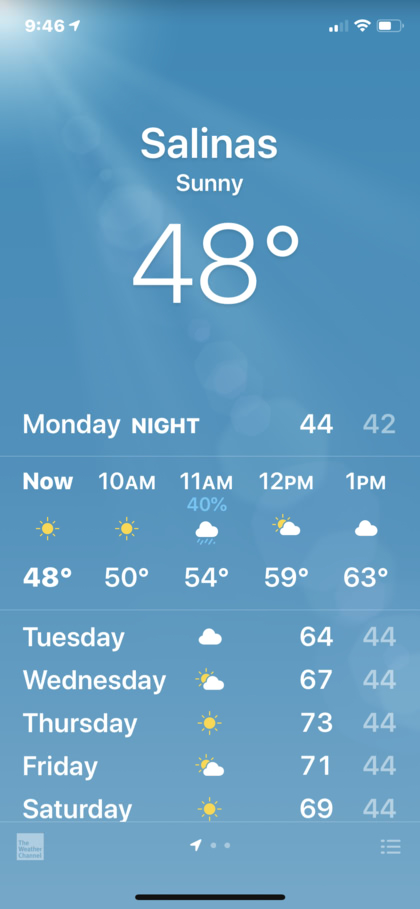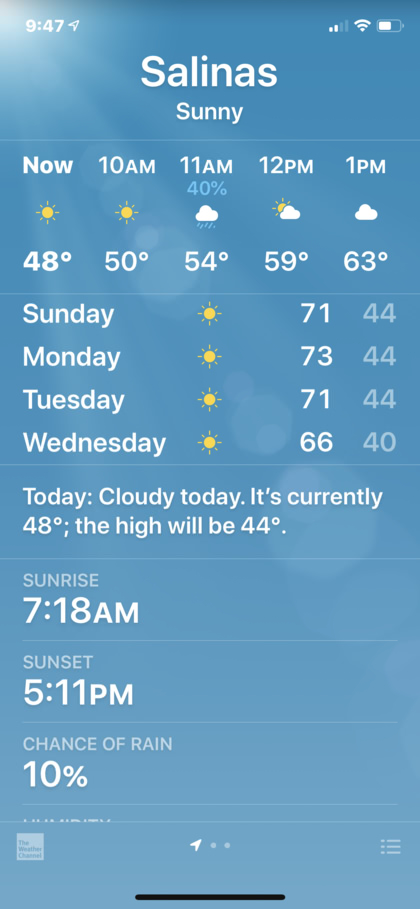 Three hours later, it's still wrong. The hour-by-hour predictions are updated, but the day and high/low data are still wrong in both places. You have to force-quit the app to make it figure out that today is Tuesday.
🎶 🎶 🎶
"Is anybody there?
Does anybody care?
Does anybody see what I see?"
🎶 🎶 🎶
I know Tim Cook is more of a political activist than a leader, but surely there's still someone at Apple that cares about basic functionality of the product line that makes them the richest company in the world.
Impeachment 2, Electric Boogaloo
You know it's really-extra-special-important to impeach Trump when Nancy Pelosi can't even wait for new souvenir pens to be delivered.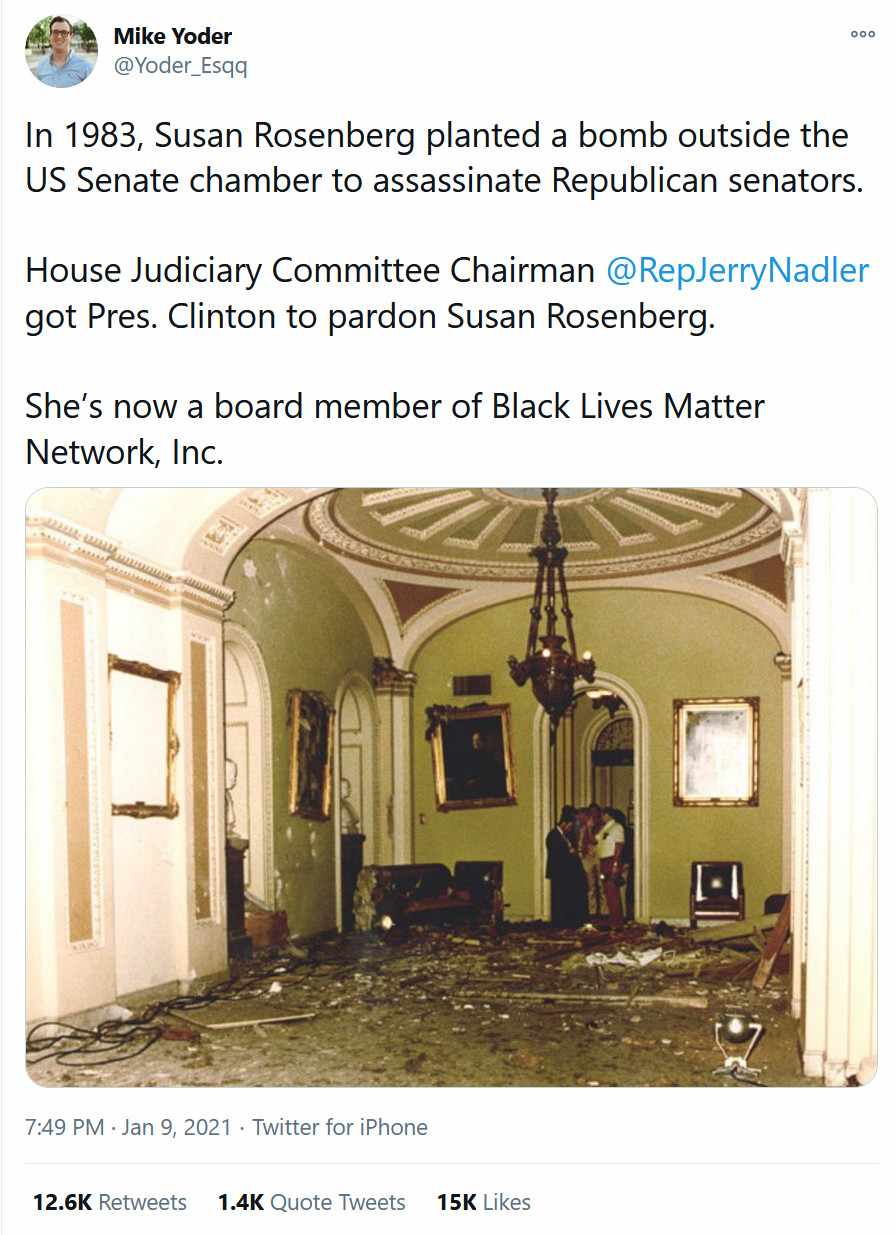 (why, yes, this person was kicked off of Twitter; it's a truth-free zone)
"I work for Tim Cook! Tim Cook!"
"He's the number one guy at OCSP. OCSP runs the Macs. You're a… Mac!"
"Yes, I am a Mac." (disconnects from Internet)
Random Thoughts, Time Machine edition
---
Dear Amazon,
You know the drill: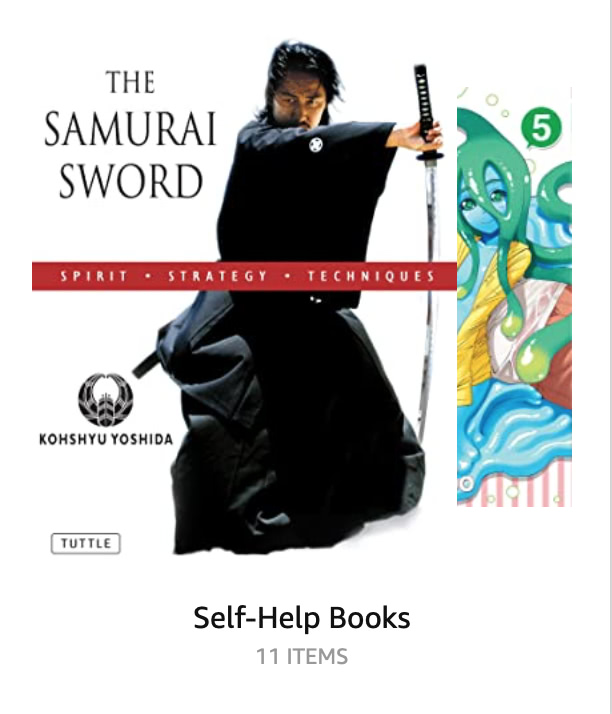 Hmmm, have they done an isekai series about ending up in another world as a monster-girl samurai psychologist yet?
Fun Mac Fact
If a Time Machine backup is interrupted for any reason, it may leave behind an unkillable backupd process. If this happens, even automatic local snapshots will stop working until you reboot. And by "reboot" I mean power-cycle, because MacOS doesn't know what to do about an unkillable system process; it kills off everything it can and then just sits there, helpless.
Part of the problem is that the menubar indicator that's supposed to show when a backup is active does not include the "preparing" or "stopping" stages, so if you were to, say, close your laptop lid during those stages, or change your network configuration by starting a VPN connection or switching from wired to wireless, you could trigger the problem.
For more fun, if your Time Machine backups are on a NAS, they're stored in a disk image, which needs to be fscked periodically (part of the lengthy "verifying" stage), and must be fscked after any error. And that can take hours. And if it fails, the only solution Apple offers is to destroy your entire backup history and start over, potentially leaving you with no backups at all until the first new one completes, which, again, takes hours, especially with the default "run really slow in the background" setting enabled.
Pro tip:
sudo sysctl debug.lowpri_throttle_enabled=0

There are instructions (1, 2, but none from Apple) for how to manually fsck a TM image (possibly multiple times) and correctly mark it as usable again, a process that has the potential to take days.
And that's why I keep two separate SuperDuper backups of my laptop in addition to the two separate TM backup drives (the "belt, suspenders, bungee cords, and super-glue" approach). Time Machine is far too fragile to rely on for anything but quick single-file restores, although it can be useful for migrating to replacement hardware that won't boot a cloned disk.
In the standard "you're holding it wrong" Apple way, you can't just turn on automatic local snapshots; you have to have at least one external volume configured for automatic TM backups. In fact, the manpage seems to claim that you can't make local snapshots at all unless you've got at least one external TM backup. This suggests that the optimum strategy is to use SuperDuper every day to have bootable full backups, set up TM without automatic backups, and then set up a cron job to create and manage local snapshots. And manually kick off TM backups every week or so when you're sure you won't need to use your computer for a few hours.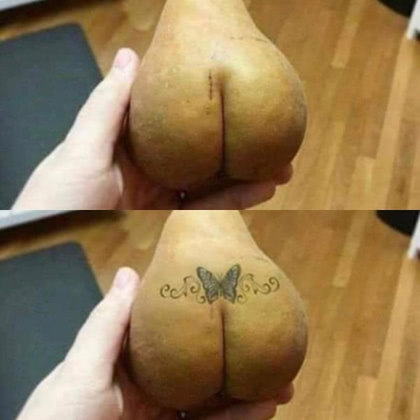 On all of my Apple devices, Safari history is set to be deleted as soon as possible ("after one day", because "when browser closes" isn't an option). But when I open the "Show All History" screen on my Mac, it usually goes back days or weeks.
Worse, deleting it manually from this screen does not work. Entries keep getting re-synced back from iCloud that were deleted weeks ago, and that weren't in the history on any device just an hour ago: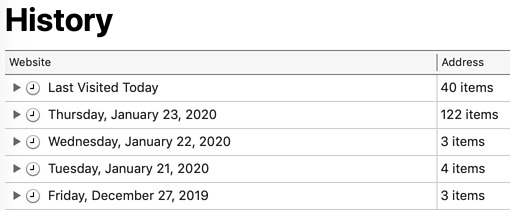 And this is why I don't believe all your boasting about protecting customer privacy: you keep copies of my data in secret places you don't tell me about or let me control.
The sad thing is that this is most likely incompetence rather than malice; you just can't write sync code that works.
Well, that explains their QA process
---
Not bothering to read this one, just snarking the obvious:
Apple's Hour of Code plans include coding labs for 3-year-olds
I had to stop rolling my eyes at the whole pointless "hour of code" nonsense a few years ago, fearing they might get stuck that way. Most kids don't need to "learn to code". Neither do most adults. All of them need some basic math, statistics, home-ec, problem-solving, and logic skills, but then there'd be no Democrats, so that can't happen.
Congratulations on breaking the Calendar and Reminders iCloud sync for anyone still running Mojave and iOS 12.x!
Update
It looks like rebooting my phone, disabling sync on both my Mac and my phone, killing the associated apps on both, and then restarting them forced a sync. Hopefully it will continue to sync for a while before it breaks again, but since I know that they switched to a completely different system for Reminders in Catalina and iOS 13, I'm not hopeful; Apple and legacy are two words that simply don't go together.
Update
…and I had to do it all on my iPad, too.